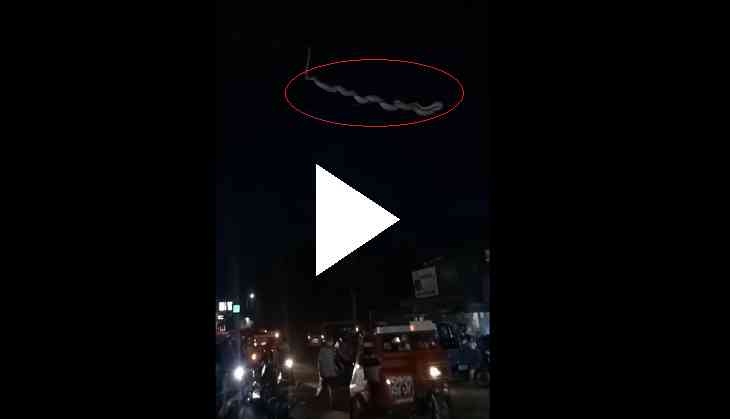 Video of huge snake hanging on the wires above a busy street goes viral
People in the Philippines were left petrified after seeing the snake hanging on the overhead cable. The incident took place on October 12 in the busy streets of Tagbilaran City, Bohol.
The video of the horrifying scene went viral on social media.
In the viral clip, a silent serpent can be seen slithering on the wire. While people on the busy streets were recording the incident on their mobile phones while others were walking as nothing has happened there.
Also Read: Creepy! Snake slithers on car windscreen; nail-biting video goes viral
The video shows a huge snake hanging on the cable wire for a while. Scary onlookers can also be heard screaming while clicking photographs and videos of the huge reptile. Moments later, the venomous snake falls to the ground and people start shouting in horror. Some people are also running away from the location. While some are trying to record where the snake is going.
Watch Video:
In the video, people can also be seen moving two-wheelers when the snake falls on the busy street to check if it's alive or not.
The video was shared by a YouTube channel Viral Hog on October 15. Meanwhile, the viral clip has garnered over 5,000 views.
"On the night of October 12, 2021, Tuesday, at approximately 6:30 pm, a huge snake was seen hanging on the street wires at the public market of Barangay Cogon, Tagbilaran City, Bohol. As seen in the video, the snake fell to the ground and was immediately caught by the residents. The snake was then brought back safely to its habitat by the residents," Viral Hog wrote in the description section of the video.
Also Read: Woman catches huge venomous snake; video will give you nightmares