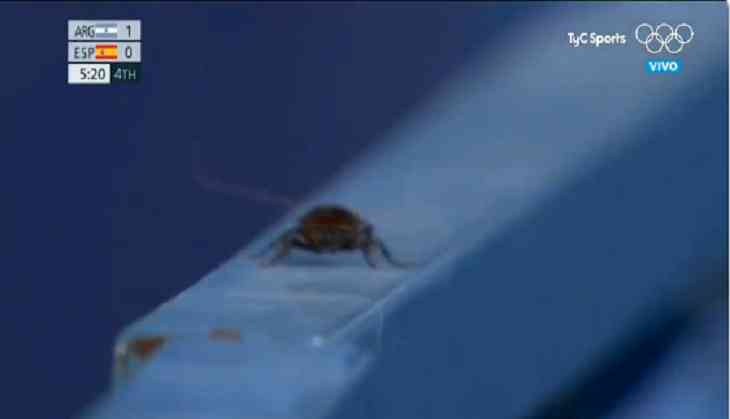 Screenshot from the viral video
Tokyo Games is grabbing headlines for its multiple events and many unforgettable moments have been captured by the cameraman during the games. One such moment has been captured by a cameraman during a women's hockey match that is leaving netizens in splits.
During the games, the cameramen not just captures the sportsperson or players but also the audience reactions which could be the most entertaining thing to watch on screen. A similar interesting clip was captured by a cameraman during Spain and Argentina women's hockey match.
The cameraman filmed a cockroach walking along a part of the field. The shot was played on-air when the replay was being played.
The shot was shown by an Argentinian TV channel broadcasting Tokyo Games 2020.
Check out viral video:
July 26, 2021
After seeing the visual, the sports commentator who was commenting about the match stopped talking about it and said, "Look at what we have here. A cockroach."
Netizens loved the shot of a cockroach during the women's hockey match. The segment has garnered several hilarious reactions from Twitterati.
However, the shot was broadcasted only for a few seconds as the cameraman again captured the hockey match between Spain and Argentina.
The South-American nation won the match 3-0.
Also Read: Tokyo Olympics: Indian Men's Hockey team defeat Argentina 3-1, enter QFs