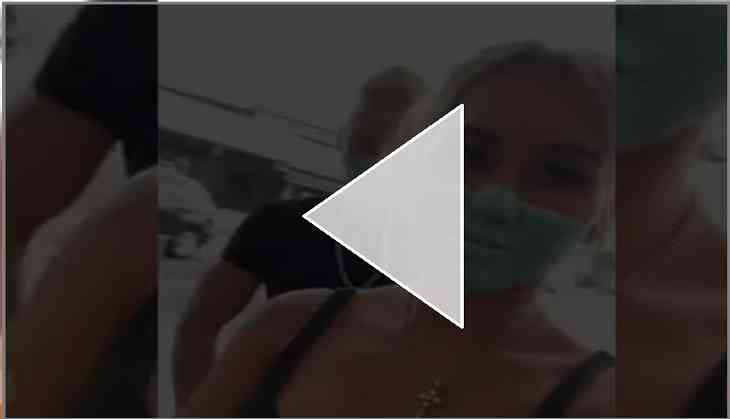 Two social media influencers have landed into trouble for breaking coronavirus guidelines at a supermarket in Bali.
As per updates, authorities in Bali have reportedly seized their passports. Strict action was taken against them after social media influencers have posted the prank video online.
In the video, a man can be seen painting a facemask on a woman's face instead of wearing the actual one.
Also Read: Woman tries hard to park her car between two vehicles; video will tickle your funny bone!
In a bid to entertain their fans, the two influencers had violated the COVID norms.
Meanwhile, they are facing deportation.
The influencers have been identified as Josh Paler Lin and Leia Se.
In the clip, Lin and Se can be seen entering a supermarket in Bali. However, the latter was allowed to enter the supermarket as she was not wearing a facemask. Later, Josh used blue paint to draw a facemask on Se's face with white straps.
They return to the supermarket and got entered the store by fooling the security guard.
Lin can be heard telling Se in the video, "You can't talk."
On the other hand, Se was saying that 'can't believe that 'this works!'
See video:
Meanwhile, their act has enraged people on social media and many criticised for doing such kind of prank amid the COVID-19 crisis.
Because of their prank video, Lin and Se, who belong to Taiwan and Russia respectively, are now facing deportation due to their blatant disregard for COVID-19 guidelines.
Later, the duo took to Instagram and apologized to everyone for breaking the rules.
"We want to apologize for the video that we made," they say. Lin further said that they never intended to "disrespect" or "invite" people to disregard mask-wearing rules.
"I made this video to entertain people because I'm a content creator, and it is my job to entertain people. However, I did not realize that what I did could actually bring a lot of negative comments and raise concerns," Se said.
Also Read: Couple without mask abuses cops, calls them 'beggar'; incident caught in camera