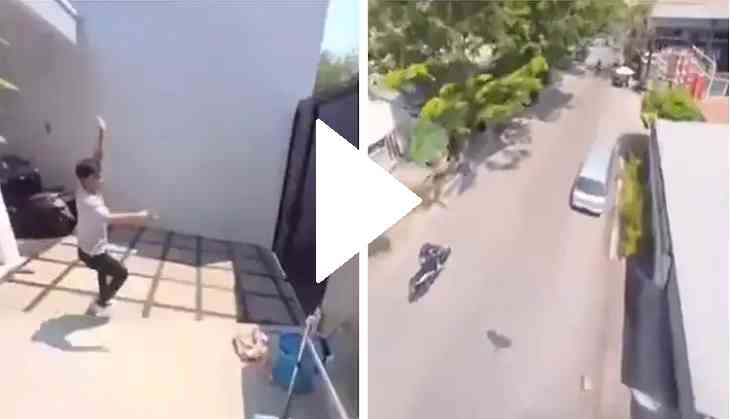 Screenshot of the viral video
Internet is full of various bizarre and amusing things that left us stunned. Another mind-boggling video has surfaced on the social media platform which will surely make you surprise.
The viral video shows a parrot flying with a man's phone. What the bird does next with the phone will leave your mouth open.
The video was shared by a Twitter user named Fred Schultz along with a caption, "Parrot takes the phone on a fantastic trip."
Also Read: Terrifying clip shows bull moose charging at man recording its video
In the amusing video, a person can be seen running behind a parrot that took his phone away in its claw. As the video begins, the bird captures a panoramic view of the entire neighbourhood for a minute. The beautiful view shows the houses, rooftops, and roads. After flying for seconds, the bird sits on the railing of the balcony but again starts flying when people calling out.
Check out where parrot finally landed:
Parrot takes the phone on a fantastic trip. 😳🤯😂🦜 pic.twitter.com/Yjt9IGc124

— Fred Schultz (@fred035schultz) August 24, 2021

The video of the parrot flying with the phone has amazed netizens and has received over one million views. The viral clip has prompted several reactions online. Some people called it animated video.
"It's 100% animation. Pause and look at the bird wings. They look cut out with harsh edges - there's no real motion blur. Shadows on ground and buildings are too sharp. The leaves on the trees don't have real texture. It all looks flat. Movement is also extremely unrealistic," a user wrote.
Also Read: Horrifying! Man left shocked after seeing lion through kitchen window; video goes viral
"Are people just really bad at identifying edited videos or do you really believe this is a parrot stealing a phone?" another commented.
A user said, "Obviously a created video. No way for the parrot to carry a phone around in the orientation that they would be able to capture their flight path directly like that. A camera was mounted to a bird for this shot. I liked it regardless."
Also Read: Copycat! Monkey tries to wear mask like human; hilarious video goes viral