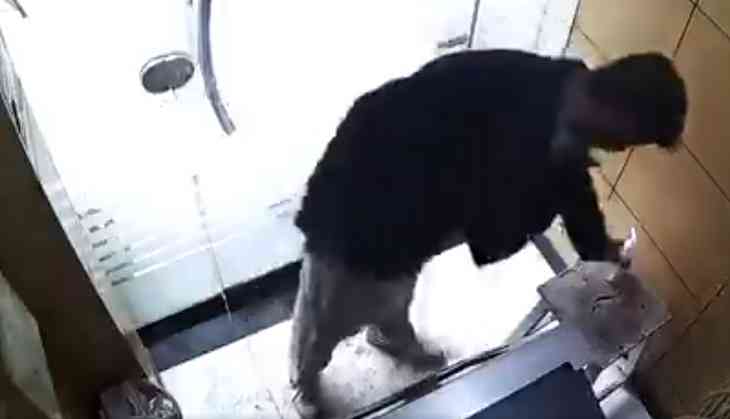 Coronavirus is wreaking havoc across the globe, as people were forced to stay indoors in a bid to protect themselves from the deadly virus. Several precautions have already been announced like using a mask, washing hands and the use of sanitizers could avert the effect of the virus.
However, these precaution measures have caused a shortage of products in the market. As people are getting panic after knowing about the infection and started buying masks, hand wash, and sanitizers. The recent video also proved our point.
A video shared by Pakistani journalist Naila Inayat on Twitter which showed a man stealing the bottle of sanitizer after withdrawing money from ATM.
The journalist also captioned the video, "When you think no one is watching you.."
When you think no one is watching you.. pic.twitter.com/2V08SHHdwg

— Naila Inayat नायला इनायत (@nailainayat) March 29, 2020
The 32-second CCTV footage showed the man taking out of money from the machine and as he kept money in his pocket then he picked up the bottle of hand sanitizer. Instead of sanitizing his hands, the man put the entire bottle inside his jacket's pocket and walked out of the ATM.
Meanwhile, the video has managed to collect several funny reactions on Twitter. Many shared a similar video from India too.
Check out how Tweeple reacted:
India pic.twitter.com/XS50hw68a9

— जियो यूनिवर्सिटी (@Mehd77705068Ali) March 29, 2020
hahaaha, was he thinking its free.. for him..

— Surya (@KEYESEN2000) March 30, 2020
😂😂 Learning from Imran Khan !

— Nikhil Dolle 🇮🇳 (@Nikhildolle) March 29, 2020
Another Poor fellow.. Bank must have deducted folio charges, MB charges, Debit card charges etc... Hisaab pura kar raha hai bechara 😂😂😂😂

— Ashish Acharya (@AshishA60987649) March 29, 2020

The short clip has garnered over 111k views on Twitter.
Due to the cornonavirus pandemic outbreak, over 30,000 people have been died and over 7 lakhs confirmed positive cases for COVID-19 across the world.
What's your reaction to the video?
Also Read: Blind mystic Baba Vanga warned people about coronavirus before her death? Know what she said