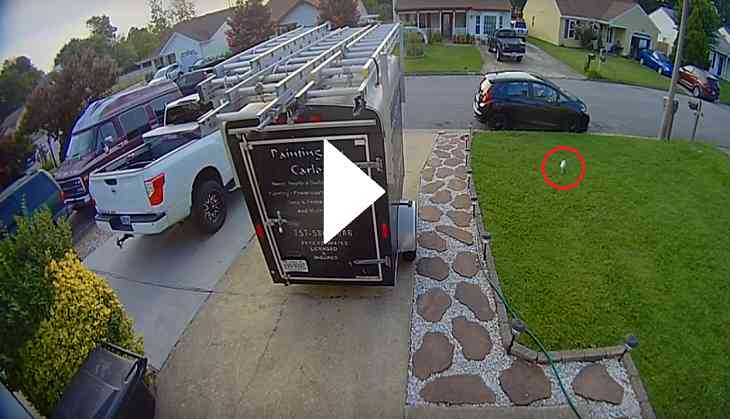 Screenshot from the viral video
In a bizarre incident, a video shows fish falling out of the sky and slamming into a parked vehicle. The incident was caught on a CCTV camera in Virginia Beach in the US.
The video has left many people scratching their heads as no one could understand where the fish came from.
The homeowner, Carlos Maldonado told VialHog that his neighbour informed him that fish hit the car, but he didn't believe them. But, when the family checked their security camera footage they left shocked. In the video, they saw a fish, indeed, fell from the sky.
Maldonado said that a car was parked and a claim was pending on another car that got damaged, now this fish fell from the sky, damaged the spoiler.
Also Read: Video of deadly fight between 2 tigers will leave you in shock!
Initially, Maldonado's neighbour thought that a sound of a gunshot, therefore, they came out to investigate but were left stunned after seeing the fish. Later, they informed Maldonado about the incident.
After reviewing the Ring camera footage, Maldonado's family saw that the fish falling down on the parked car before it fell onto the lawn.
"We searched the ring video and saw the fish fall from the sky and hit the car. I had to call StateFarm and make another claim, at least we had the video to prove this story," Mr. Maldonado said.
The video was shared by ViralHog on YouTube and the footage has garnered over 6k views.
See video:

Meanwhile, the whole episode has confused social media users.
One of the users wrote, "Wow, flying fish really do exist."
Another quipped, "An Eagle or something must of dropped it"
"You can hear the eagle or bird that was carrying the fish screech after it dropped its lunch on accident," a user wrote.
Also Read:Terrifying clip shows bull moose charging at man recording its video