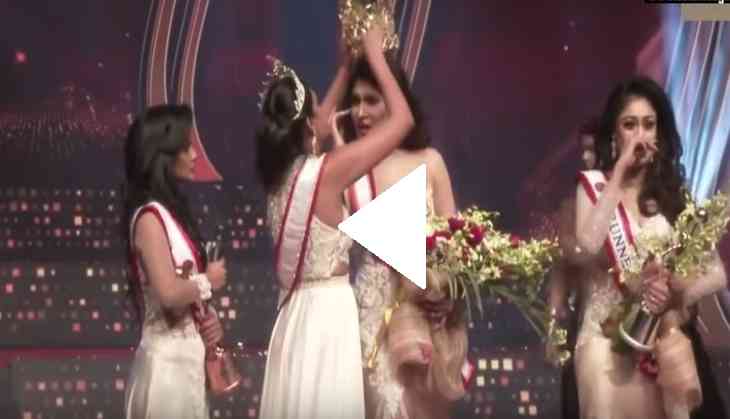 Mrs Sri Lanka 2020 crown snatched on stage
Mrs Sril Lanka 2021: Mrs Sri Lanka beauty pageant is grabbing the limelight for all wrong reasons after the crown was snatched from Mrs Sri Lanka winner Pushpika De Silva on Sunday.
The beauty pageant witnessed a high voltage drama on the stage when the 2019 winner Caroline Jurie seized the from from Silva. The video of the incident has gone viral on social media.
In the clip, Caroline crowned Silva after she won the "Mrs Sri Lanka" 2020 title. After some time, Caroline Jurie announced that Silva is not eligible for the honour on account of being a divorce.
She asserted that "There is a rule that you have to be married and not divorced. So, I am taking my first step saying that the crown goes to the first runner-up."
The video that has surfaced on the Internet showed Caroline Jurie pulled up the crown and later placed it on the head of the first runner-up. Soon after, Silva left the stage in tears without saying anything.
The entire incident was also telecast on television.
Watch the whole incident:
After the incident, the pageant organizers have apologized to Mrs De Silva as she is separated not divorced.
Taking the incident to Facebook, Silva posted that she had sustained injuries to her skull during the brawl.
Also Read: Woman gets whopping amount just by selling pictures of her feet; know the bizarre reason
"As I write this, I responsibly say that I am not a divorced woman. If I am divorced, I challenge them to submit my divorce papers," she wrote in a statement translated from Sinhala.
She also said that she has taken necessary legal action to correct the injustice and insult.
While talking about Mrs Jurie's actions, she further wrote that "A real queen is not a woman who snatches another woman's crown, but a woman who secretly sets the other woman's crown."
The national director of Mrs Sri Lanka World, Chandimal Jayasinghe told the BBC that the crown would be returned to Mrs De Silva. He also said that it was a disgrace how Caroline behaved with Silva on the stage.
An investigation was launched to investigate the matter.
Also Read: Woman changes dress in blink of an eye during dance performance; netizens ask 'How?'