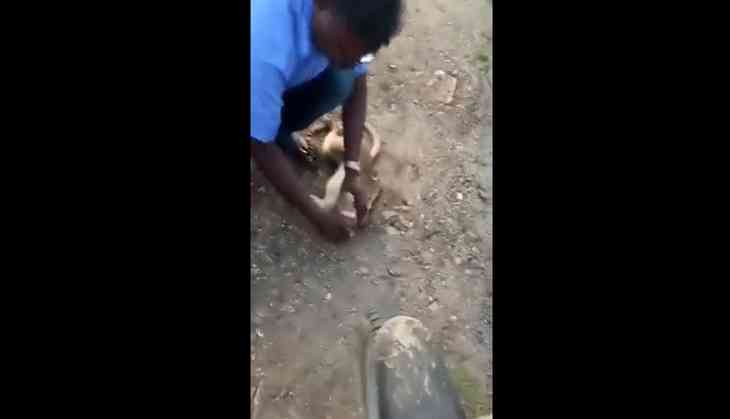 A video of a man saving the life of a monkey proves that humanity is still alive. The clip was shared by an IFS officer on Twitter which has now gone viral on social media.
In the video, a man can be seen giving the animal mouth-to-mouth resuscitation.
The man was identified as M. Prabhu, a driver from Perambalur in Tamil Nadu.
Also Read: Zookeeper scrubs alligator in this viral video; its reaction will melt your heart
According to media reports, Prabhu saw the injured and unconscious monkey after he was attacked by dogs. Somehow the monkey managed to escape from the canines and climbed a thorn tree.
Reportedly, Prabhu rescued the monkey but found it unconscious. He then reportedly took the primate on his two-wheeler to a veterinary hospital for treatment.
However, the man felt that the animal is losing its battle to survive, then he immediately stopped his vehicle and revived the animal.
Check out the video:
There is hope 🙏🙏👏 https://t.co/wt3yNTDlk1

— Ashwin 🇮🇳 (@ashwinravi99) December 13, 2021
IFS officer retweeted the video along with the caption, "There is hope".
The monkey has now been handed over to authorities.
The video has garnered over 2 million views and over 23,000 likes on Twitter.
Netizens hailed the man for his gesture towards the animal and thanked him for saving the life of the monkey.
Also Read: Viral Video: Injured deer enters hospital; here's what it does next