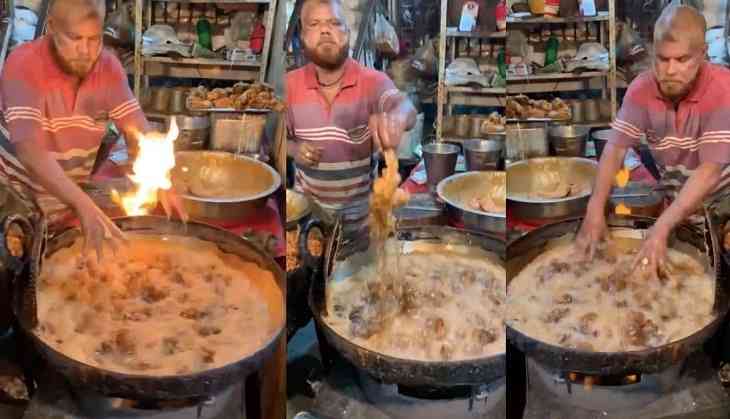 Man dips hand in hot oil to fry chicken (Credit: nonvegfoodie | Photo Credit: Instagram )
Social media is filled with various delicious recipes but several recipes have left us disgusted due to the hilarious combination of ingredients that should not be mixed.
Recently, an oreo pakode video from Ahmedabad surfaced on the Internet which has left netizens unhappy. Besides ruining the taste of the food, there are many chefs or street vendors who grabbed the limelight for their amazing food preparation skills. One such video of a street vendor has surfaced on social media wherein he can be seen bizarrely cooking a fried chicken.
Also Read: Woman fries food by dipping her fingers in hot oil; netizens say 'she is different'
The video of his strange talent was recorded by a food vlogger named Shailesh. He shared the clip on his Instagram account named "nonvegfoodie" with a caption, "Inke haath jalte nahi hain ? Boiling hot oil mein hath dal kar nikaala Fried Chicken...At Ali Chicken Centre"
In the video, the man can be seen picking out a large piece of chicken from a wok of sizzling oil. The surprising part of the video is that the man takes out the chicken with his bare hands.
Watch Video:

Without any doubt, the video has gone viral and has garnered 60k likes on the gram.
According to the Shailesh's Insta post, it is the roadside stall named Ali Chicken Centre in Jaipur.
Let us tell you that in Delhi's Karol Bagh area, an owner of a small eatery has also the same skills.
Also, over 70 years old restaurant named Ganesh restaurant is popular for its fish fry and other types of fritters. The owner of the restaurant, Prem Singh (67) uses his bare hands to prepare the deep fish fry. He has been doing this for more than 30 years.
Isn't it an incredible thing?
Also Read: Man tries Indian food for the first time; his reaction wins Internet