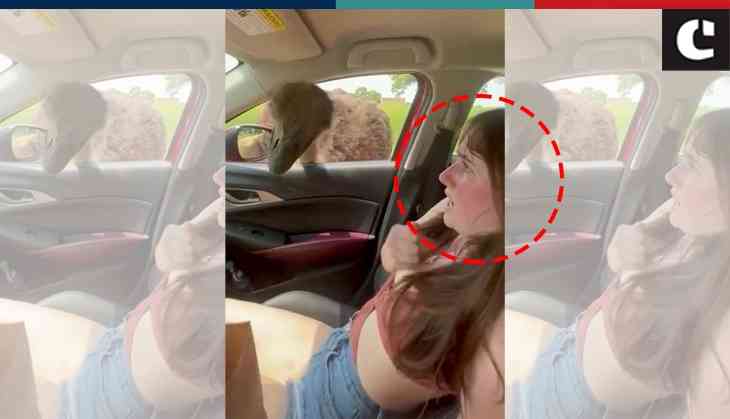 Ostrich pokes its head through woman's car window
A hilarious moment was caught on camera where a woman left panicked after an ostrich poked through her car window in search of food.
The incident took place at the Safari Wild Animal Park in Como, Mississippi, USA.
Chloe Benham, 22, visited a safari park along with her friend Stephen Malon (29).
She was freaked out when the ostrich excitedly went for the bag of corn inside their car.
According to mirror.co.uk, Chloe is a student at the University of Mississippi, who grew up on a farm and is an animal lover.
Also Read: Terrifying image shows unidentified creature roaming Texas zoo; netizens stumped
Sharing her experience, Chloe said, "I probably laughed the hardest I ever have in my life."
"There were a ton of ostriches across the animal park grounds, so we did encounter them after this," Chloe added.
The 22-year-old woman told that she rolled up her window before the ostrich get another chance to poke its head again in the car.
Chloe said, "I would really love to overcome my fear of ostriches before I die though."
Bartender Stephen had visited the park once before and was excited to go back.
He told "I never expected her to be scared of any of them, let alone an ostrich. Neither of us knew what was coming."
For the unversed, the flightless ostrich is one of the largest birds in the world and they are the fastest runner among any two-legged animal. Ostrich can run at around 45mph.
Also Read: Orangutan fiercely attacks man at zoo, terrifying video goes viral [Watch]