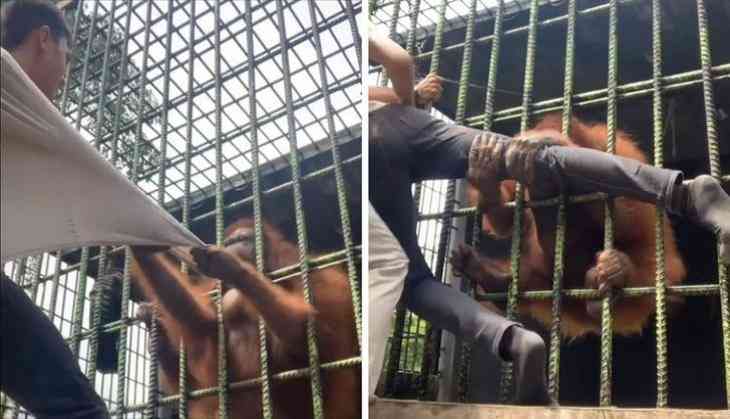 Angry orangutan attacks man.
A terrifying video of an orangutan grabbing and pulling a man's t-shirt aggressively has created a huge buzz on the internet. The incident happened at Indonesia's Kasang Kulim Zoo and has left netizens exceedingly furious.
In the footage, a man is seen going near the orangutan named Tina's enclosure. The disgruntled animal can be seen reaching out and tugging the man's t-shirt quite hard. Orangutans are known to be very docile and that's the reason the video has left people shocked.
Watch the video here:
June 7, 2022
With more than 12 million views, the clip has triggered an intense discourse among people on Twitter about the horrible living conditions in the zoo. As maintained by local news, the man, identified as Hasan Arifin intentionally cut across the fence installed around the enclosure to make a video with the orangutan.
However, the zoo officials have shared videos on their Instagram handle to clear the air about the unfortunate episode. In the clips, one of the zookeepers was seen showing the warning sign placed in front of the orangutan enclosure.
Also Read: At daughter's wedding, father shows savage dance moves on 'O Saki Saki' [Watch]