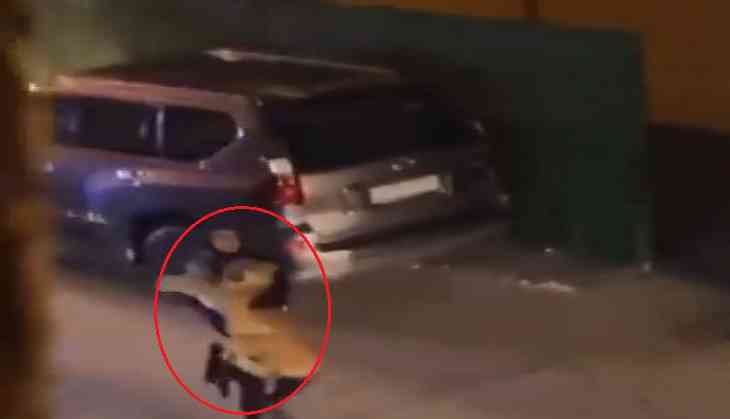 Screenshot from the viral video
Watching animal videos are one of the best things to do on social media. Internet is a storehouse of cute and wild animals that left us stunned. One such video of a woman carrying a lion on the street has gone viral on social media.
Isn't it sound scary? But, it's really true. In the viral video, a young woman wearing a hijab can be seen carrying a lion in her arms down the street in the Sabahiya neighbourhood of Kuwait City on Sunday.
Also Read: Tiger drags car full of tourists with teeth; watch spine-chilling video
The video has amused everyone on social media platforms.
As per reports, the lion was being kept as a pet by the girl and her father. Reportedly, the wild animal had escaped their home and caused panic in the neighbourhood.
The video was shared on Twitter by a user named Arlong along with a caption, "My neighbor and her dog seemed to not be getting along last night"
Watch Video:
My neighbor and her dog seemed to not be getting along last night pic.twitter.com/fUGcpuTkMY

— Arlong (@ramseyboltin) January 3, 2022

The viral clip shows the woman carrying the lion as it struggled to break free. The lion's growling can be heard in the video.
Ever since the clip is being shared on social media, it has garnered 3.1 million views, 25.1k retweets, and 145.8k likes.
However, Environmental police confirmed that the lion belonged to the girl and her father. Officers also helped the girl in capturing the lion.
Also Reaad: Mother elephant and calf barge into police station from window; watch what happens next