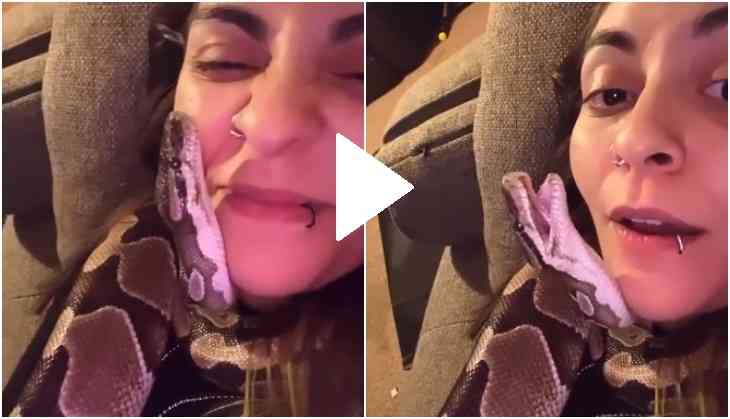 A video of a girl playing with her pet snake is leaving netizens stunned. The video was shared by an Instagram use named 'royal_pythons' with a caption, "Love my snake!".
Needless to say, the video has gone viral on the social media platform.
In the video, a girl can be seen cuddling her pet snake while lying on the couch. Both snake and the girl are seen relaxing in the video. When the snake's tiny head comes near the mouth of the girl, she kissed it on its chin and its mouth.
Also Read: Video of snake couple chilling in pleasant weather goes viral
The reaction of the snake is quite interesting.
Check out the video:
The girl also laughed after seeing the reptile's reaction and also told her pet snake, "I love you" and kisses it again. It seems the snake also likes cuddling while relaxing on the girl. It again rests its head on the girl's cheek and moved as if saying that it loves her too.
The girl also touched with the reaction of her snake and said, "Awww".
Since the video is posted online, it has managed to collect over 9k likes and several shocking and amusing comments.
One of the users wrote, "Aww that's adorable". Another user said, "Love my snake too but when he abandoned me n our 2 children, I'd had enough!!!!!!"
"He is around your neck 😳😳😳🙈, I do not like snake's, it's scary," a frightened user said.
Also Read: 2-year-old boy drags snake with bare hands; video will make you rub your eyes in disbelief