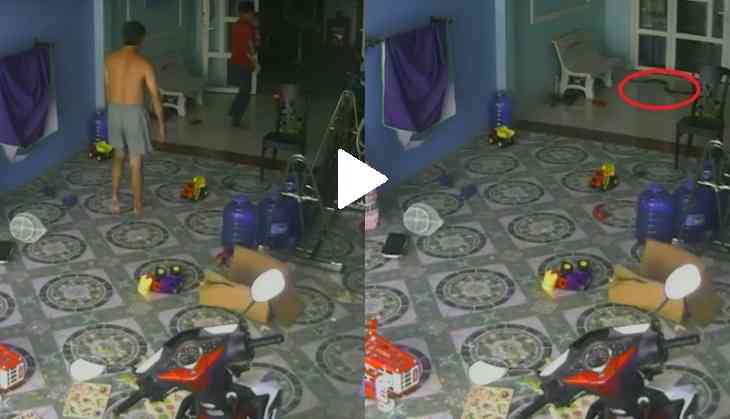 Screenshot from the viral video
A hair-raising video has surfaced on the Internet which showed a king cobra trying to follow a child who was playing on the floor of his house.
The incident took place in Vietnam. In the video, the venomous snake, about two metres long can be seen slithering on the shiny floor of the front yard of the toddler's house.
All thanks to his grandfather who noticed the reptile at right time. Reportedly, the grandfather had recently recovered from a stroke, therefore, he couldn't call anyone for help.
But, the child's father sitting near them ran immediately and rescued the child from the angry snake.
They immediately scrambled back into the house and closed the main door of the house before the snake approached them.
Watch the scary video on YouTube

The snake tried hard to catch its prey but failed to enter the house as the main door was closed. After making many attempts, the snake also moved out of the front yard.
It was sheer luck that the snake was spotted at the right time and a major mishap was averted.
The video has garnered several reactions from many YouTube users as they were surprised by the speed of the snake.
"Wow, I didn't expect it to be that fast and agile based on the old man's reaction when he initially spotted it. Good thing the younger guy was there for both him and the baby," said Hassan Jamal.
"It seemed that snake was desperate for food, perhaps not eating in over a month+, all that energy built up for a killing attack. Snakes are afraid of humans, and so are we with snakes, but it seemed this was a snake going to go out dying to get food. Not defending the snake, I just know that "snakes are evil" isn't the right mindset. You'd say the same thing if a starving dog or bear went after the child. Thank god for the parents, 10000/10 best parents for keeping an eye on the child," another wrote.
A social media user also applauded the parents of the child. "Thank you, Lord for those men being in the presence of that child!!! 🙏Some parents are not as attentive while their children play!"
According to media reports, the horrifying incident took place on July 14 in Soc Trang province in Vietnam.
Also Read: Scary! Family discovers 18 snakes living under bed; know what happens next