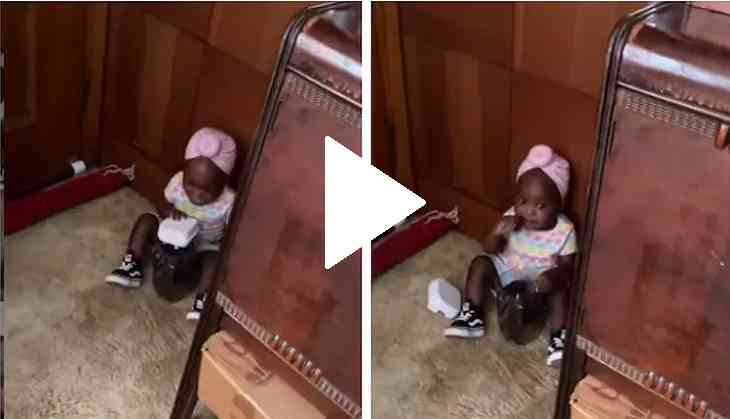 Father catches little daughter stealing cookies (Image Source: Instagram)
Cookies love among children is not a new thing. But, the video of this little girl eating cookies in a corner of the house will surely make you smile.
The viral video shows the father of the girl Dylan is searching for her by calling out her name.
As soon the man finds his daughter, he started laughing out loud. The girl can be seen with a big jar of Oreo cookies and nibbling on them sneakily. After seeing her father, the little girl also started giggling and continues enjoying her jar of cookies. While her father couldn't control his laugh at his daughter's adorable antics of eating the sugar rush.
In the video, the father said while laughing, "You're so busted, you don't need that many cookies."
The awdorable clip was reshared on an Instagram page called upworthy.
"Who stole the cookies from the cookie jar?" the video caption reads.
Watch the video here:
Meanwhile, the video has garnered over 4 lakh views and prompted several amusing comments from the users.
"Thank you so much for sharing my beautiful daughter," a user said.
Another commented, "it's the fact that her first reaction after her father finding her after having done something wrong, IS TO SMILE for me ❤️ says a lot about their relationship. amazing and straight adorable!"