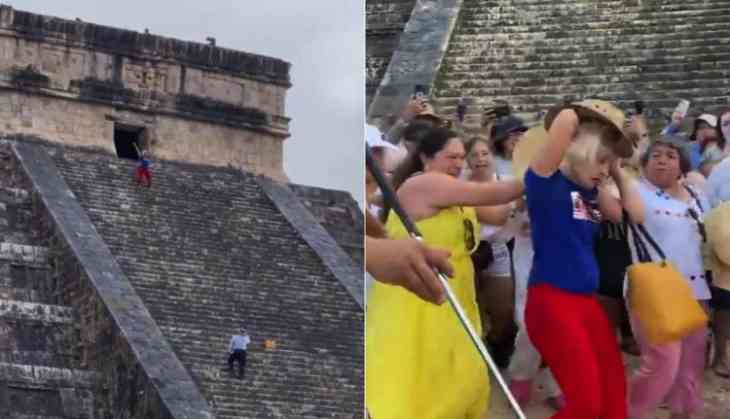 Tourist climbs ancient Mayan pyramid.
A peculiar scenario recently took place at a historic World Heritage site that angered many visitors. In front of hundreds of witnesses, a woman was seen climbing the stairs of a Mayan pyramid. The tourist can be seen making her way up the Mayan Pyramid in Chichen Itza in the video. The woman goes into the temple and starts dancing on the steps as she reaches the top of the pyramid. Furthermore, the video shows other visitors protesting against the lady. The traveller was brought to safety once she got back on the ground while locals urged that she be put behind bars.
This viral video was shared by Twitter user @davenewworld_2, and the post's caption read, "A disrespectful tourist climbs an ancient Mayan pyramid in Mexico and gets booed."
Take a look at the video:
A disrespectful tourist climbs an ancient Mayan pyramid in Mexico and gets booed pic.twitter.com/ZMAnwf0Euo

— Fifty Shades of Whey (@davenewworld_2) November 21, 2022
After the video was posted online, it has been viewed 8.2 million likes. The video also has many likes and comments that only seem to be growing. Many people were not happy with the woman's actions.
One Twitter user commented, "I'm sure they the pyramids took a huge hit with all that foot traffic, and they had to change the rules to preserve it. People should respect that regardless of what country they're from. ALWAYS respect the people and lands you visit on your travels. You are a guest!" A second person added, "WOW. This is beyond disrespectful." A third person wrote, "Almost 30 years ago, we climbed the pyramid at Chichen Itza. Even then stairs were so worn and steep that my partner had a full-on panic attack trying to descend. Glad for the changes to preserve these irreplaceable monuments," said a third.
Also Read: Plumber finds 135-year-old letter inside bottle under floorboards; here's what it says