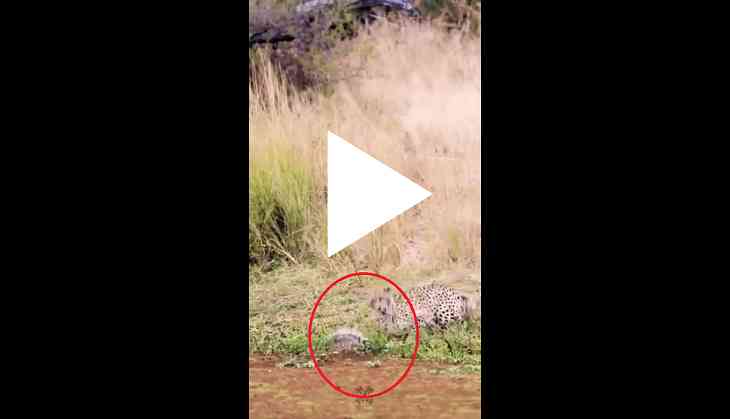 Crocodile snaps at cheetah in viral video (Source: Twitter)
We have seen several videos of cheetah and crocodile fights on social media. But this viral video of crocodiles snapping at the big cat will leave you horrified!
The video was posted by Surender Mehra of the Indian Forest Services on his official Twitter handle. He captioned the video: "Wilderness is full of uncertainties and surprises"
Also Read: Terrifying! Hungry crocodile attacks cheetah, drags it into water [WATCH]
The 14-second clip shows a cheetah walking towards a pond and then starts drinking water from it. Within a few seconds, the cheetah left shocked as a crocodile tried to attack the big cat.
To know what happened next, watch the video:
Wilderness is full of uncertainties and surprises..
'Survival of fittest..' #Wilderness @susantananda3 pic.twitter.com/yFfDggi3a1

— Surender Mehra IFS (@surenmehra) May 29, 2021
Luckily, the cheetah jumped and escaped from the area.
Meanwhile, the video has gone viral on social media and has garnered over 6k views and several comments from netizens.
Check out how Twitterati reacted:
Survival Of The Fastest !!

— ஈரோடு_முத்துமணி (@muthumani) May 30, 2021
That is sharpness in alertness in survival ....great job 🙏

— B Venugopal Reddy (@bvgreddy15) May 30, 2021
This cheetah must have seen the earlier video where his fellow was caught. This time he is being more catious .. he learnt the lesson

— Mohammad Tarique 🇮🇳 (@emperor_mohd) May 30, 2021
What your opinion after watching the video?
Also Read: Lioness tries to attack buffalo in this viral video; what happens next will surprise you