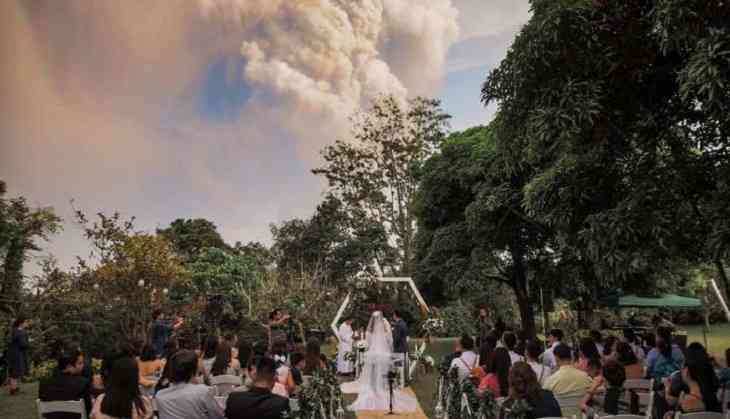 A trend of wedding shoot has been spread across the world. A couple tries all new things to make their wedding day memorable. Sometimes it came to notice that because of family members or others photobombing steal all the spotlight from a couple.
On Sunday, a wedding photo of the Philippines' couple was photobombed by a volcano. Yes, the pair tied a knot just 10 kilometers away from the Taal Volcano, which erupted during the ceremony. The amazing shot was captured by the Photographer Randolf Eva.
In the picture, Chino and Kat can be seen posing in front of the ash plume in the sky behind them.
The Taal Volcano erupted about 60 kilometers south of Manila on the island on Luzon. After the volcanic eruption on Sunday afternoon, officials were asked residents to evacuate the area as another possible eruption could affect the place.
However, the couple didn't change their wedding destination as planned and decided to carry out a ceremony at the same place. The photographer told CNN that his team and other guests were nervous about the volcanic eruption and they were checking updates about the eruption.
"We were nervous because while working we kept on checking social media for updates on the volcanic eruption. So we were actually aware of the warnings and escalating levels that were being announced real-time," Randolf Evan told the news website.
"We also discussed discreetly among ourselves what we should do when the worst comes to worst," Randolf Evan added.
Wedding guests were panic about the ferocious eruption but everyone stayed to attend the ceremony. Once the couple said 'I Do' and then, the ceremony was wrapped up.
The wonderful pictures of the couple and their wedding ceremony were shared on their Facebook page.
The post has collected over 1,600 comments, 21K likes and over 6000 shares on FB. The images were also doing the rounds on Instagram and Twitter.
Also Read: Woman employee takes leave by sending 'fake' photo of punctured tyre to boss; know what happens next