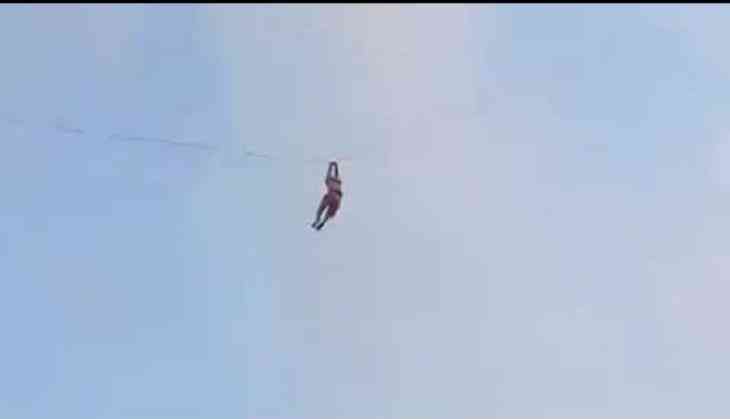 A man in Sri Lanka was left dangling in the air after getting swept away by a kite
A man was left hanging by a thread in the time of kite flying incident in Sri Lanka. As maintained by Newswire. A man, identified as Nadarasa Manoharan found himself airborne after a strong gust of wind took hold of his kite and swept him off his feet. The man had been flying a kite in Point Pedro in Sri Lanka's Jaffna district, when he was lifted 30 to 40-feet above the ground.
The shocking episode took place on Saturday. A video that has been going around in the internet displays Manoharan hanging on a jute rope that was affixed to his massive kite.
Watch the video here:
Dramatic video shows a youth swept into the air with a kite in Jaffna area.
The youth was reportedly suffered minor injuries.pic.twitter.com/W0NKrYnTe6 #Kiteman #Kite #LKA #Jaffna #SriLanka

— Sri Lanka Tweet 🇱🇰 💉 (@SriLankaTweet) December 21, 2021
As maintained by Daily Mirror, Manoharan was admitted to Point Pedro Hospital after crashing to the ground. He suffered minor injuries in the accident.
While talking to Newswire, Manoharan stated that he was pulled into the air as he had not noticed that the people behind him had let go of the kite thread. He had reportedly tried to hold on to the rope even as men behind him let go of it as the kite started to ascend.
Furthermore, Manoharan said that he didn't look down once he was in the air and only left the rope when his hands became numb to hold on.
This is not the first time that kite flying has gone wrong. In 2020, a three-year-old girl tangled in the tail of a huge kite survived a fearsome ride after being lifted over 100 feet into the air during Taiwan's kite festival.
Also Read: Alleged cannibal thought consuming victim's flesh would 'cure his brain'