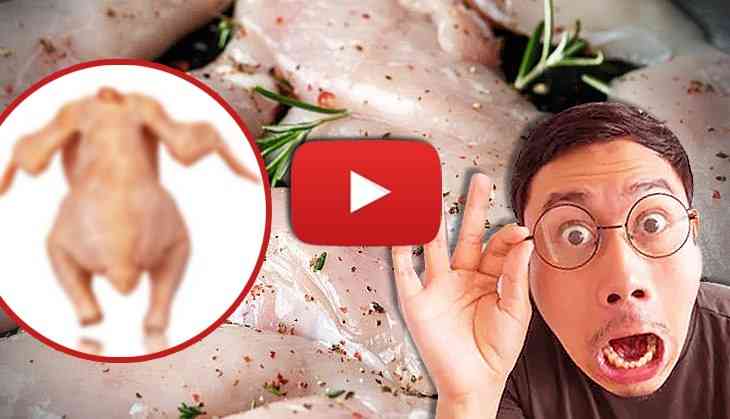 A video is creating a buzz on social media and also left many in shock for an unbelievable thing that happened at a restaurant. Imaging, if you have ordered a roasted chicken and all of sudden it starts jumping! You would scare with such a bizarre incident.
The same thing has happened in a restaurant where a raw piece of chicken jumping out of a plate at a restaurant. Meanwhile, the video has surfaced the Internet and left netizens terrified.
The 32-second video was shared on Facebook by a user Rie Phillips, a resident of Florida. He shared the video two weeks ago but the clip has gone viral this week.
Rie captioned the video, "This was not recorded by me... all I did was repost the video TheShade Room"
See the horrifying video:
On the table, several other food items can be seen laid down and among others, a plate of a raw chicken was also served. Soon, after the dish served on the dining table, a movement in the raw chicken was caught on camera.
The piece of chicken leaped off the plate and later, fell to the floor.
Diners surrounding the table were terrified with it and started screaming in utmost horror.
Meanwhile, The video of chicken jumping has garnered over 21 million views, 2.68 lakh shares and over 76000 comments. It has been viral all over the social media platform like Twitter, YouTube, and Instagram.
However, the location of the restaurant has not been identified yet.
After seeing this video many reactions on social media has come to light.
One of the users wrote, "It refuses to die even in death." Another user also blamed salt: "That's what happens when you put salt on". Well: "I would've grilled while it's moving and see what's gonna happen."
Even, Animal Rights organization PETA shared the video on Twitter and captioned, "This disturbing viral video of what appears to be a raw chicken carcass crawling off a plate serves as a reminder that animals are individuals who feel pain and don't want to die."
Also Read: Taj hotel trolls Marriott after Rahul Bose's video on banana bill goes viral; Netizens say, 'Wah Taaj'