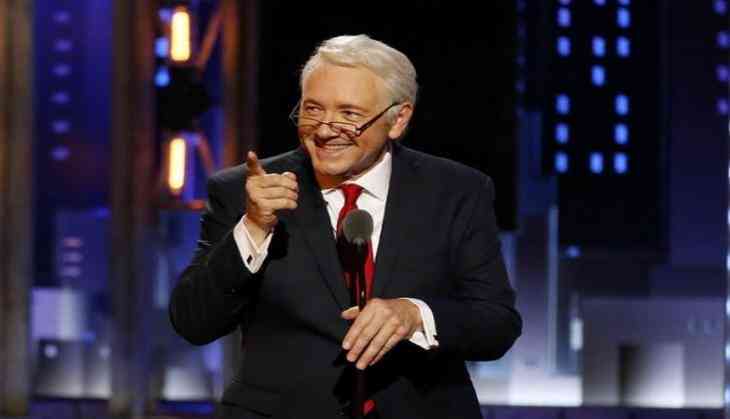 The 71st annual Tony Awards were handed out on June 11 to recognise achievement in Broadway productions. And when some of the biggest names in the Broadway history are sitting in one room, some Trump bashing is inevitable.
According to The Hollywood Reporter, host Kevin Spacey took the first dig at President Donald Trump when James Earl Jones received a special Tony Award for Lifetime Achievement.
The 'House of Cards' star quoted a few of Jones' famous lines. Starting with, "I'm your father," Spacey said in a deep, Jones-esque voice, referencing Jones' memorable turn as the voice of Darth Vader.
But, he did not stop there and went to add, "This is CNN, the most trusted name in fake news."
For the uninitiated, Jones is the voice of CNN's famous on-air slogan, "This is CNN," but that criticism is beloved by Trump, which has branded the network as "fake news" since his first press conference as president-elect.
The actor continued to digs, when he appeared later in the show dressed as Bill Clinton, the former President of USA.
He began by saying, "We've had some surprising winners. I'm not even talking about the Tony Awards."
Hillary continued to serve as a punch-line as Spacey's Bill Clinton out that Dear Evan Hansen star Ben Platt bumped Hillary off of Time magazine's "Most Influential" list, but he said she still topped the musical star in one area.
"There's no doubt Hillary's better at creating fake email accounts than you," he said to Platt and added, "I'm going to get in trouble when I get home."
'Late Show' host Stephen Colbert also took some sharp digs at the current administration.
Colbert prefaced his introduction of this year's nominees by talking about another revival, down in Washington, of an off-Broadway show from the '80s that had massive production values.
He also shared that this show has couple of problems, "The main character is totally unbelievable and hair and makeup: Yeesh. It's supposed to have a four-year run. But reviews have not been kind. It could close early. Best of luck to everyone involved."
Actors like Cynthia Nixon, Sally Field and Kevin Kline also gave some subtle political comments in the show.
Nixon, while accepting her Tony for best featured actress in a play, turned political at the end of her speech.
She said, "There are people who eat the earth and eat all the people on it and other people who just stand around and watch them do it.' My love, my gratitude and my undying respect go out to all of the people in 2017 who are refusing to just stand and watch them do it."
Actress Sally Field, spoke about American Theatre Wing and said, " This reminds us of our strength in diversity, our common bonds and our enduring national spirit that has always guided us through adversity. Born in perilous times, the wing in its next century will do what it's always done, illuminate the darkness with the blazing truth of art."
It should be noted that, ' Dear Evan Hansen' won big with six Tony Awards, including best musical, followed by ' Hello, Dolly!' which took home four Tonys.
The star studded ceremony happened at Radio City Music Hall in New York.
-ANI