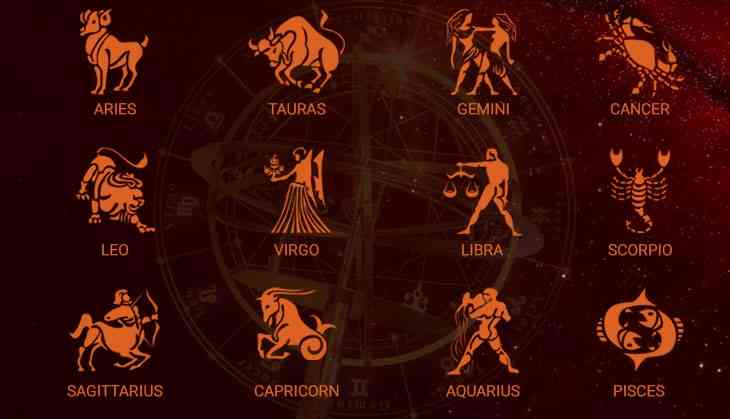 1. ARIES
Your day will be filled with self-confidence and capability to complete all your work which is why you will attain a very special position at the workplace. You are likely to be awarded for your work as it will be complete and all up to the mark but do not expect more and be happy in whatever you have got till date. You will try to pull yourself in the later half of the day by doing something that is meaningful and that will hopefully bring success to you.
LUCKY COLOUR- VIOLET
LUCKY NUMBER- 2
2. TAURUS
Today is a day when you will move in the correct direction which will definitely lead you to success. Today you will have to share your thoughts and opinions with many people who will come in your contact. They will understand your thought process and will feel your emotions and will provide you with validation and satisfaction.
LUCKY COLOUR- GREEN
LUCKY NUMBER- 8
3. GEMINI
Arguments may flare up during a group discussion. Close friends might force you to spend money on an outing. Your generous attitude brings pressure on your finances. Things could move up to the next stage of your love relationship.
LUCKY COLOUR- INK BLUE
LUCKY NUMBER- 4
4. CANCER
You might get upset today as even after hard work you will not get successful in your work. To cheer you up, your friends might take you out but you will keep on thinking about the same. Try to make your relationships in your business strong which will only benefit you.
LUCKY COLOUR- PINK
LUCKY NUMBER- 4
5. LEO
Today, you may be stumped by some mysterious and wonderful event. There are chances that some kind of unexpected yet advantageous event will take place. Do not involve too much enthusiasm and over exertion because it might deteriorate your health.
6. VIRGO
7. LIBRA
Some may encounter uncomfortable differences of opinion, but you will find that most of these are superficial. Don't allow misunderstandings to undermine what can be very positive partnerships. If you hate what you are doing, something is very wrong. Powers of intuition are doubled, so don't be surprised.
LUCKY COLOUR- CYAN
LUCKY NUMBER- 2
8. SCORPIO
Happiness, entertainment, rest and true relaxation are on the cards for you. After understanding the philosophy of life, you will now reap the benefits of the makeover .You will now spend some valuable time with your loved ones. The role that you play in your organization is extremely important and soon you will be rewarded for that.
LUCKY COLOUR- YELLOW
LUCKY NUMBER- 4
9. SAGITTARIUS
Today is a day when you will have to realize that your inner state of mind is quite apparent to people just by the look on your face. Do not think you can hide things from others because you can't. Make your emotional side strong so that someone does not misuse you. You're better off just saying how you feel even if you think someone may be put off by it.
LUCKY COLOUR- MAGENTA
LUCKY NUMBER- 7
10. CAPRICORN
Just watch out for that urge to make small, critical remarks that appear helpful to you, but that may rub others the wrong way. Do something physical. You need to keep the rust out of your system with a regular exercise routine.
LUCKY COLOUR- GREY
LUCKY NUMBER- 7
11. AQUARIUS
Today, you will be spending your money like water. Be very careful about your expenses and about the commitments you make with other people because it is expected that you will be on loss and it will be great as you will lose all your savings. You will lose your heart to a person of the opposite sex and it is possible that you might ask her/him out for a dinner date.

LUCKY COLOUR- PEACH
LUCKY NUMBER- 4
12. PISCES
You may feel that you woke up on the wrong side of the bed today. The day is filled with a fair share of jittery moments and lingering worry. Stand firm and remember that every night has a dawn. The law of averages will make your evening more enjoyable.
LUCKY COLOUR- BROWN
LUCKY NUMBER- 9