The death toll reached 32 in the fire tragedy at a Bangladeshi factory, on 12 September after more bodies were recovered from under the debris and authorities called in a team from the army to join the rescue operation.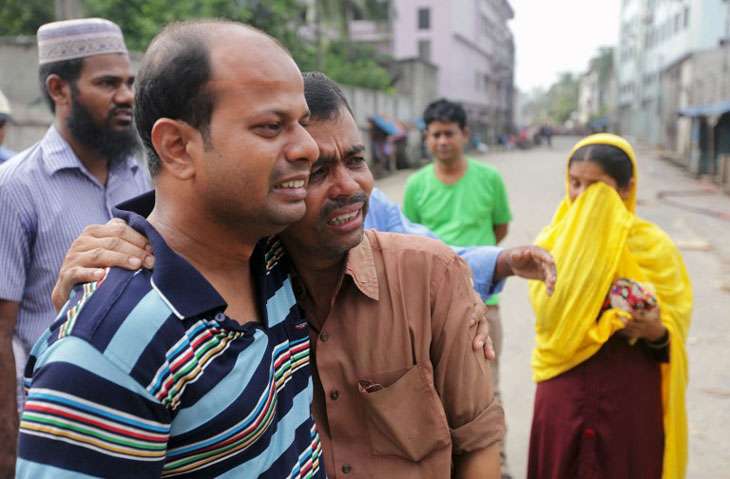 Men who worked at a destroyed factory cry as they stand near the still aflame building. (Photo: AFP Photo)
Gazipur fire service's Deputy Assistant Director Md Aktaruzzaman said three more bodies have been recovered from the building today. The flames in the factory were not doused completely.
Fire was still being spotted here and there. The army also joined the operation. The father of a victim filed a case against the Tampaco Foils Factory owner and six others with Tongi Police Station last night.
Owner Mokbul Hossain was named as the prime accused, BD News quoted Officer-in-Charge of Tongi Police Station Firoz Talukder as saying.
The fire was initially thought to have triggered by a powerful boiler explosion at the Tempako Packaging Factory in Tongi industrial area near Dhaka, but officials later claimed they have found the factory tank intact fuelling speculation that a gas leak could be the reason behind the blast.
About 100 people were believed to have been inside the food and cigarette packaging unit when the explosion occurred.
-PTI