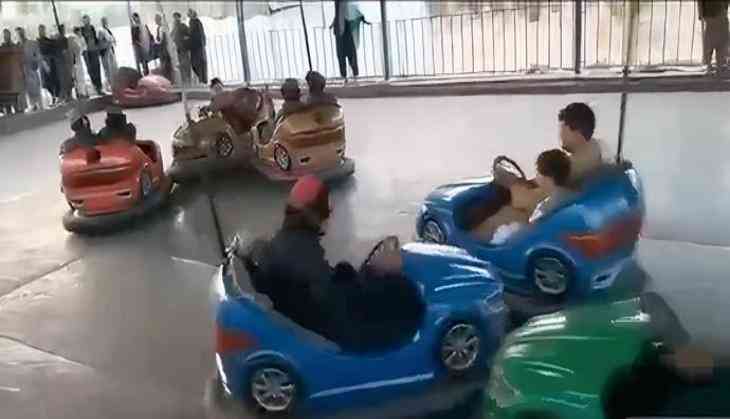 A day following the collapse of Afghanistan, videos have come to view on the internet displaying Taliban militants enjoying rides and having fun at an amusement park in Kabul.
In the clip, Taliban terrorists were seen laughing and riding electric bumper cars while holding rifles and weapons. In another clip, they were also seen riding play horses in merry-go-round in the midst of a complete mayhem in the capital city of Kabul.
Here's the video:
The pack of jokers having a good time in Amusement park after creating mayhem.

Taliban 🤡. pic.twitter.com/CxSlR9NXfD

— Mona Sharma (@MonaSharmapr) August 17, 2021
The Taliban be like "Esselworld mein Rahoonga main, Ghar nhi jaaoonga main" 😂😂 USA should have made an Amusement Park & left them there & they wouldnt have come out even 😂 pic.twitter.com/yKU0gLiBb3

— Rosy (@rose_k01) August 17, 2021
Another set of clips put out by Asaad Hanna show Taliban terrorists bouncing on a trampoline and working out at a gym inside the presidential palace.
Taliban's terrorists right now: pic.twitter.com/2F8qHzw6No

— Asaad Hanna (@AsaadHannaa) August 16, 2021
Trying to be "fit for governing"
Taliban in Afghanistan working out in the presidential palace's gym. pic.twitter.com/s441sb6e35

— Asaad Hanna (@AsaadHannaa) August 16, 2021
These clips come in sharp contrast to the distressing videos displaying thousands of Afghans who are desperate to leave the country since the Taliban took control of the presidential palace in Kabul.
Not less than ten people have been killed and several wounded amid complete chaos and gunfire at the passenger terminal of the Kabul international airport where many Afghans have converged in hopes of catching an evacuation aircraft..
The videos also showed Afghan citizens jostling to climb the ladder to get inside the aircraft leaving the country. Two such hopeless people fastened themselves to the wheels of a military aircraft that was taking off from the runway but fell to their death.
The country now looks at an unknown coming time especially after the President Ashraf Ghani fled the country with four cars and a helicopter full of cash, as per the Reuters. The armed group's takeover of Kabul comes nearly 20 years after giving away power in an US-led assault.
Many citizens fear the Taliban will go back to their past harsh practices in their imposition of sharia law. During the Taliban rule, women couldn't work and punishments such as stoning, whipping and hanging were discharged.
Also Read: Situation in Afghanistan 'better' under Taliban than Ghani, says Russia
Also Read: India introduces 'e-Emergency X-Misc Visa' in view of current situation in Afghanistan