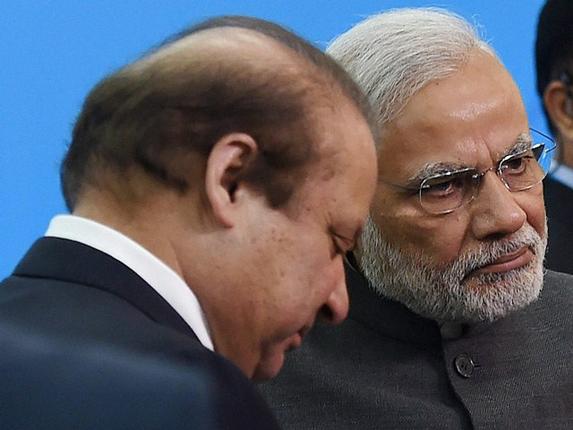 Step aside RK Mishra. Sajjan Jindal seems to be at the helm of political-business complex arranging meetings between heads of two states.
Before Modi\'s Christmas visit to Lahore, Jindal previously arranged for a meeting between Modi and Sharif during the ASEAN conference in Nepal.
Politics is part rhetoric and part fraternising with the military-industrial complex, or so it seems. Once again, JSW Steel magnate Sajjan Jindal's name has cropped up as Prime Minister went knocking to Lahore on Nawaz Sharif's birthday.
Prior to this, it was reported that Sajjan had brokered a meeting between the two Asian leaders in Nepal earlier this year at his hotel.
Did Sajjan Jindal really set up the meet?
The move has set tongues wagging about back channel being used to make the meeting between Modi and Sharif possible.
Jindal shot into the limelight after Barkha Dutt mentioned in her book his role as a conduit in facilitating a meeting between Modi and Sharif on the sidelines of the SAARC summit last year in Kathmandu.
And, while MEA and Indian government has denied that Modi's Pakistan sojourn was pre-planned, Sajjan's presence at the venue hints at a possible set-up pre-mediated for the leaders meeting. It is interesting to also note that Sajjan and Sharif's familial ties go two decades back with industrial relations over steel production units.
After Modi's tweet on Pakistan visit, Jindal tweeted, "In Lahore to greet PM Navaz (sic) Sharif on his birthday".
In May last year, Jindal was able to persuade Sharif to come to his house for tea when the Pakistan Prime Minister visited Mumbai.
The ministry of external affairs has denied that Jindal had anything to do with either meeting.
Congress lashes out. Experts call it old news:
Congress spokesperson Anand Sharma reacted to Modi's stopover and said the prime minister had used the services of a vested private business interest to fix the meeting in Lahore on Friday thereby hinting at Jindal.
But, experts believe that this method of using business fraternity for foreign policy outreach is nothing new.
Vested interests?
According to reports, Jindal has vested interest in pushing the peace agenda in the sub-continent as JSW Steel holds a 16 per cent stake in a consortium led by state-owned Steel Authority of India Ltd (SAIL) that bagged the rights to an iron ore mining concession in Afghanistan's Bamiyan province in November 2011.
Another company led by Sajjan Jindal, JSW Ispat, holds an 8 per cent in Afghan Iron & Steel Consortium (AFISCO).
His brother-in-law Sandeep Jajodia, who controls Monnet Ispat and Energy, holds 4 per cent in the very same venture, as reported by ABP.
Jindal's brother and Congress politician Naveen Jindal owns another 16 per cent in the mining consortium.
Analysts have pointed out that the private steelmakers together hold 44 per cent in AFISCO, with the rest held by SAIL.
The project, helmed by Jindal, has been stuck for over four years because SAIL have not been able to persuade the Pakistan government to allow the transport of the Hajigak iron ore deposits by road to Karachi.
The target is to ship the iron ore from Karachi to the western and southern ports of India for use by Indian steel mills, including JSW. Otherwise, the ore has to be re-routed via Russia, making it unviable.
So, all in all, Jindal seems to have an agenda in negotiating Modi-Sharif meetings due to his business deals and personal connections. If these meetings add up to anything concrete, Indian industries, especially iron and steel companies will definitely reap rich dividends. We can't say the same about India's foreign policy goals, yet!