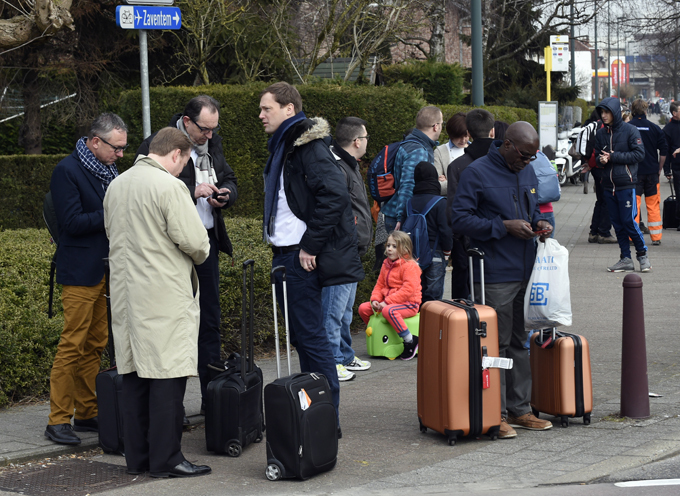 Nearly 20 people were killed in three explosions in Brussels, Belgium, according to Reuters reports. Ten people were killed at the Maelbeek police station near European Union headquarters and 13 were killed at the airport, according to public broadcaster VRT.
Brussels police spokesman Christian De Coninck told AP: "There are victims, serious injury, people have died. I have no idea yet on the numbers of injured or dead."
The terror threat level in Belgium has been raised to four, its highest level. Raising the threat level to four means authorities can deploy the army onto the streets to meet security needs, CNN reports.
France's top security officials have said the country is reinforcing security at airports, train stations and metros after Tuesday's attacks.
Interior Minister Bernard Cazeneuve said France has stepped up security following news of the attacks.
Watch some video footage from the horrific attack here:
Amateur footage shows scene at #Brussels airport after explosions (video: Bart van Meele) via @PA https://t.co/3XmkAPsLda .

- Nasser Atta (@nasseratta5) March 22, 2016
Footage from different angle of explosions at #Brussels Airport pic.twitter.com/eynapbt1h9

- Press TV (@PressTV) March 22, 2016
Chaotic scenes following the explosions at #Brussels airport earlier. (via @Conflicts) pic.twitter.com/9wS86A0Ltn

- Julie Lenarz (@MsJulieLenarz) March 22, 2016
Witness at #Brussels airport bombing. Part 4 pic.twitter.com/AwOjTAN4uA

- Steve Clemons (@SCClemons) March 22, 2016
Related reports: Two Jet Airways crew members injured in Brussels blasts, MEA issues helpline number
Lockdown in Brussels: Bus, Metro, Train, Tram shut after explosions
After airport, fresh blast at Brussels metro station; 13 dead, 35 injured