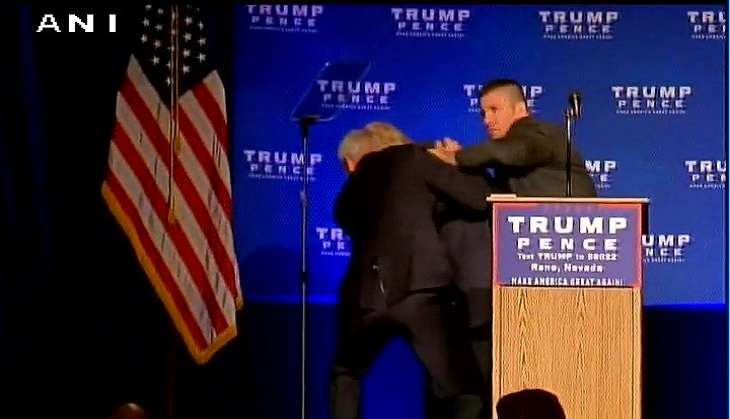 Republican presidential nominee, Donald Trump who was addressing a campaign rally in Nevada, was rushed off stage by the secret service officers after a gun scare on 6 November.
Just when the security officials sensed a threat to Trump, they swarmed in to protect the Republican nominee and detained the man who apparently posed a threat to Trump. According to report, chaos broke out after a person in the rally screamed "gun".
However, no weapon was recovered from the man detained after he was escorted out in handcuffs by police.
#WATCH Donald Trump was rushed off stage during his Reno, Nevada campaign rally; one man escorted out in handcuffs by police. pic.twitter.com/YJb2i705wa

— ANI (@ANI_news) November 6, 2016
Several minutes later Trump returned on stage to complete his speech. He went on to praise the secret service officers and lauded them for their services. Asserting that they were "fantastic" in what they do, Trump also pointed out that they weren't given enough credit for their services.
"I would like to thank the United States Secret Service and the law enforcement resources in Reno and the state of Nevada for their fast and professional response. I also want to thank the many thousands of people present for their unwavering and unbelievable support. Nothing will stop us - we will make America great again," Trump said in a statement.
America goes to the polls on 8 November.