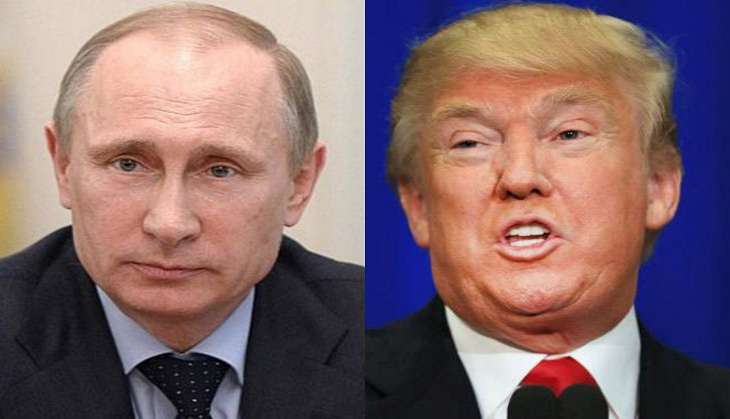 Russian President Vladimir Putin spoke with US President-elect Donald Trump on 14 November, for the first time after the latter's win in the election, and emphasised on the potential for bilateral cooperation.
According to a Kremlin summary of the phone call, Putin said he was ready for "a dialogue of partnership with the new administration based on the principles of equality, mutual respect and non-interference in the internal affairs of each other," reports the Guardian.
A statement from Trump's team said the Russian President congratulated the newly-elected president on winning "a historic election".
"During the call, the two leaders discussed a range of issues including the threats and challenges facing the United States and Russia, strategic economic issues and the historical US-Russia relationship that dates back over 200 years," said the statement.
"President-elect Trump noted to President Putin that he is very much looking forward to having a strong and enduring relationship with Russia and the people of Russia," it said.
While for many world leaders, Trump getting elected is full of confusion and horror, Russia hopes a Trump presidency will mean less preaching from the West and freedom to act as it pleases in Ukraine and Syria.
Putin's spokesman, Dmitry Peskov, said the two leaders shared a "phenomenally similar" outlook on foreign policy.
During the election campaign, US officials had accused Russia of attempting to interfere in the election in favour of Trump, by hacking Democratic party servers, a charge denied by Putin.
The Kremlin has also on numerous occasions accused the Obama administration of attempting to foment dissent in Russia, and of interfering in the countries that border it, notably Ukraine. Meanwhile
The two leaders also discussed the Syrian conflict. "V Putin and D Trump shared the opinion that it is necessary to join forces against the common enemy number one: international terrorism and extremism. In this spirit, the question of regulating the conflict in Syria was also discussed," said the Kremlin statement.
Both the leaders agreed to keep in touch through telephone and begin planning a personal meeting.
--ANI