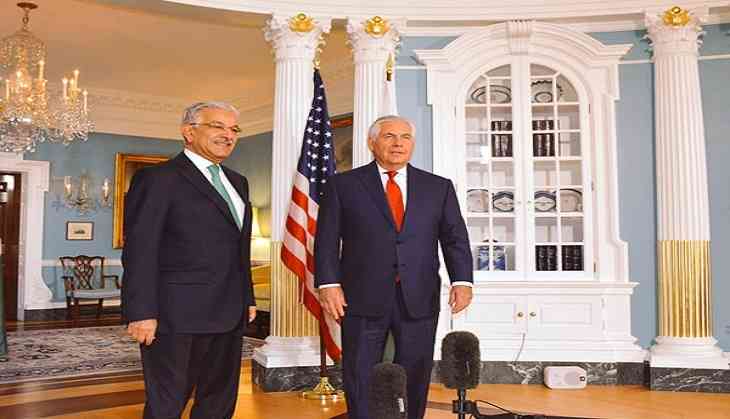 U.S. Secretary of State Rex Tillerson has said that the United States is going to test Pakistan by giving them a chance to act against terrorists.
"Pakistanis have indicated - if we provide them information they will act. We're going to have to test that, give them an opportunity to do so. So, we are going to enter into an effort to have greater sharing of certain intelligence information," Dawn quoted Tillerson as saying in response to a Senator John Barrasso, a Wyoming Republican, who had asked him to share with the Senate Foreign Relations Committee what he heard from Pakistanis during his visit to Islamabad last week.
Although, the Senate Foreign Relations Committee hearing on Monday, was on the US president's authority to go to war, but Senator Barrasso, asked Tillerson to explain the change in the approach to Pakistan and the expectations that he had articulated to the Pakistan Government while referring to US President Donald Trump's August 21 speech, where he said that "a pillar" of his new strategy for Afghanistan was "to change the approach in how to deal with Pakistan".
Responding to Senator Barrasso's question, Tillesron said he could only share "some broad contours" of Islamabad visit in a public hearing and if the senator wanted more information he was willing to sit with them for a closed hearing.
"But the conversation with the Pakistani government is for them to recognise that they will be one of the greatest beneficiaries of a successful peace process in Afghanistan," he said.
Emphasising that Pakistan had two very unstable borders, with Afghanistan and India, Tillerson said the message he delivered in Islamabad was that Pakistan needs to deny safe havens to terror groups, which launch attacks using their soil.
He also hoped that that his visit will pave the way Pakistan reviews the Afghan situation.
Tillerson further said that Pakistan has to think about their longer-term stability and their future by changing its relationship with the Haqqani network and the Taliban, which might have served their purpose for stability in the past, but they no longer served that purpose.
-ANI