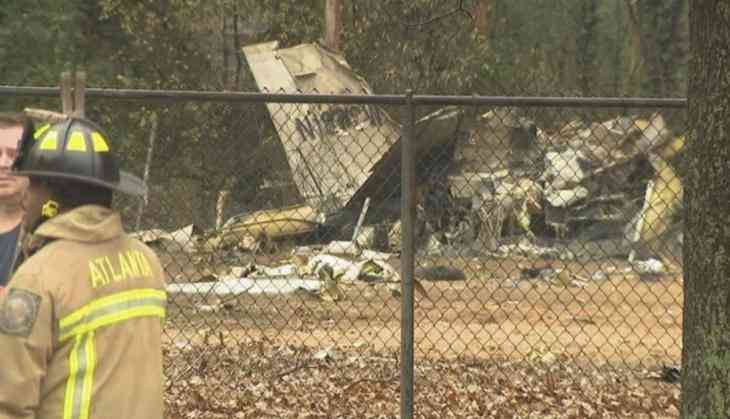 A shocking incident took place at an Atlanta park in the US where a Tennessee-bound business jet crashed into a football field on Thursday. However, all the four people aboard died in the plane crash, the officials said.
As per the Atlanta Fire Rescue Sergeant Cortez Stafford, the field of the sports ground got damaged, but no injuries on the ground were reported yet.
The firefighters had reached the spot to control the flames on the field.
The debris of the plane was spread out on the football ground over about 90 metres.
The plane was headed to the Millington-Memphis Airport when it went down.
Video from moments after a corporate jet crashed at a park in Atlanta. At least 3 people died. Tonight on @cbs46 I uncover new details about the crash including who was on board. #Atlanta #planecrash pic.twitter.com/Upqy6P8GFO

— Brittany Edney (@BrittanyEdney) December 21, 2018
According to the initial reports indicated that there were three people onboard, but Millington-Memphis Airport Executive Director Roy Remington claimed that there were actually four people aboard.
No survivors in private jet crash after takeoff from Fulton County Airporthttps://t.co/qvF9ekA2I8 pic.twitter.com/48WOERygqI

— smostinks (@smostinks) December 20, 2018
As investigators pick through wreckage of a small jet crash near Fulton County Airport...at 5...what we know so far about who owns the plane and where it was headed. Plus the final instruction Air Traffic Control gave the pilot. @wsbtv pic.twitter.com/S8OYTmIS39

— Aaron Diamant (@AaronDiamantWSB) December 20, 2018
Atlanta Fire Rescue confirms three fatalities involved in the crash of this small jet plane which took off from Charlie Brown airport. pic.twitter.com/f8aZxdmvWS

— Richard Elliot (@RElliotWSB) December 20, 2018
Moreover, the authorities along with the fire official in Atlanta were working to determine the identification of the people who were killed in the plane crash.
As per the witness, Reggie Dumas said that 'as it was going down, you could see the wings shifting back and forth.' He also said that he went out of his car to help anyone need but when he saw no survivors were there only smoke can be seen in the ground.
Also read: Viral Watch: Pakistani journalist falls off donkey during live reporting on animal trade; video will make you go ROFL