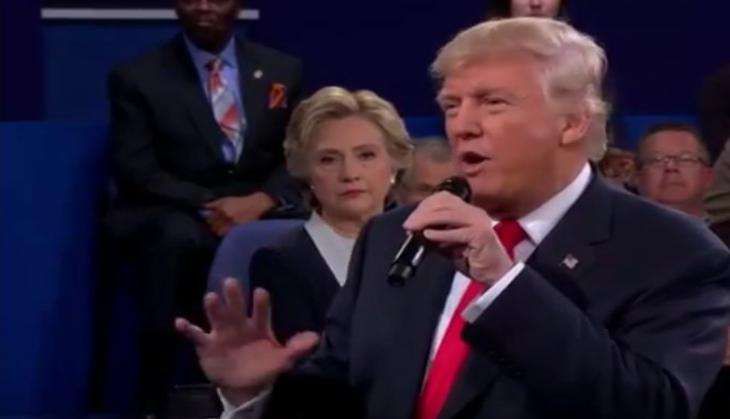 The Republican presidential nominee Donald Trump has dismissed all the allegation of sexual assault terming them as "absolutely false" in Florida on 13 October.
Two women, reportedly, accused Trump of sexual assault. Jessica Leeds, 74, accused the businessman of groping her on a plane while Rachel Crooks alleged the Republican nominee kissed her outside an elevator in Trump Tower when she was a 22-year-old receptionist in 2005.
Addressing a gathering in Florida's West Palm Beach, Trump termed the women, who accused him of sexual misconduct, as "horrible liars".
The Republican candidate has claimed that he has evidence to prove that the accusations are false and that he would release that at the "appropriate time".
Also Read:3 women accuse Donald Trump of inappropriate touching
Here is what he said:
"These vicious claims about me of inappropriate conduct with women are totally and absolutely false. And the Clintons know it, and they know it very well. These claims are all fabricated. They're pure fiction and they're outright lies. These events never, ever happened and the people said them meekly fully understand. You take a look at these people, you study these people, and you'll understand also.
The claims are preposterous, ludicrous, and defy truth, common sense and logic. We already have substantial evidence to dispute these lies, and it will be made public in an appropriate way and at an appropriate time very soon.
These lies come from outlets whose past stories and past claims have already been discredited. The media outlets did not even attempt to confirm the most basic facts because even a simple investigation would have shown that these were nothing more than false smears.
Six months ago, the failing New York Times wrote a massive story attacking me, and the central witness they used said the story was false; that she was quoted inaccurately. She said that I was a great guy. She had great courage, I'll be honest with you. She was an amazing person. And never made those remarks - that I was a great guy, and never made the remarks.
Also Read:Donald Trump given date of court hearing over lawsuit alleging rape of 13-year-old
And when I read the story, I was sort of surprised - how could she say that? And she didn't say it.
We demanded a retraction but, they refused to print it, just like they refused to pin the comments from another source who praised me in her book, or the words of another wonderful woman who said really nice things about me. They put other statements that she didn't say, they misrepresented. The story was a fraud and a big embarrassment to The New York Times and it was a big front page story. Front page, center, color picture, a disgrace. They were very embarrassed, it will be part of the lawsuit we are preparing against them.
Now, today the same two discredited writers, who should've been fired from The New York Times for what they did, tell another totally fabricated and false story, that supposedly took place on an airplane more than 30 years ago. Another ridiculous tale, no witnesses, no nothing.
Then, there was a writer from People Magazine, who wrote a story on Melania and myself on our first anniversary. The story was beautiful, it was beautiful, it was lovely. But, last night we hear that after 12 years - this took place 12 years ago, this story - a new claim that I made inappropriate advances during the interview to this writer.
And I asked very simple question, why wasn't it part of the story that appeared 20, or 12 years ago? Why wasn't it a part of the story? Why didn't they make it part of the story? I was one of the biggest stars on television with The Apprentice and I would've been one of the biggest stories of the year. Think of it, she's doing this story on Melania, who was pregnant at the time. And Donald Trump, our one year anniversary and she said I made inappropriate advances, and by the way, the area was a public area, people all over the place.
Take a look, you take a look. Look at her, look at her words. You tell me, what you think. I don't think so - I don't think so.
These people are horrible people, they're horrible, horrible liars. And interestingly, it happens to appear 26 days before our very important election, isn't that amazing?
I will not allow the Clinton machine to turn our campaign into a discussion of their slanders and lies, but, will remain focused on the issues facing the American people.
Let me state this as clearly as I can, these attacks are orchestrated by the Clintons and their media allies. The only thing Hillary Clinton has going for herself is the press, without the press, she is absolutely zero.
Again, this is nothing more than an attempt to destroy our movement and for the Clintons to keep their corrupt control over our government."