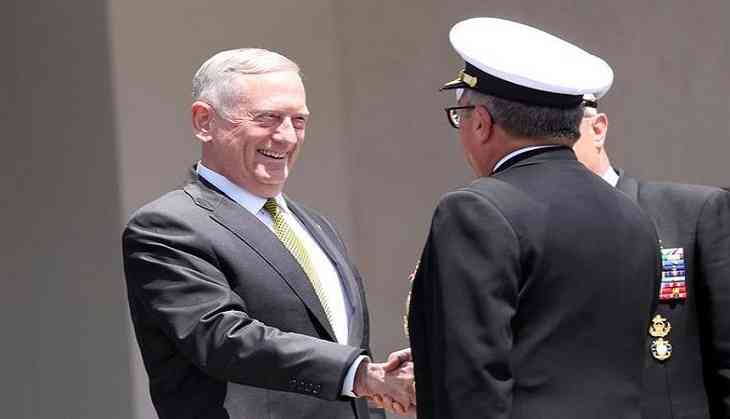 United States Defence Secretary James Mattis arrived in Kabul on 27 September with NATO Secretary General Jens Stoltenberg, to discuss ways to implement President Donald Trump's strategy of winning the war in Afghanistan with President Ashraf Ghani.
Mattis is set to hold talks with Afghan President Ashraf Ghani and other Afghan government ministers. Later, he will hold a press conference with Ghani and the NATO chief, CNN reported.
Mattis' unannounced visit to Afghanistan, after his two-day trip in India, assumes significance as President Trump said that he would rely on greater regional cooperation to stabilise the security situation in Afghanistan.
On that note, while assuring Defence Secretary James Mattis that India will continue its development and medical assistance in Afghanistan, Indian Defence Minister Nirmala Sitharaman clearly stated "There shall not be any Indian boots on the ground in Afghanistan."
Mattis is expected to meet with Commander of US Forces in Afghanistan Gen. John Nicholson and spend time with troops.
Recently, Afghanistan President Ashraf Ghani has praised U.S. President Donald Trump's strategy for Afghanistan and South Asia at the United Nations General Assembly .
"With President Trump's recent announcement of his strategy to counter terror and stabilize South Asia, Afghanistan's enduring partnership with the United States and the international community has been renewed and redirected," Ghani told the audience at the UN headquarters in New York.
He said the strategy, which states that US military engagement in the country will be based on conditions rather than timelines, provided a certainty over US support for Afghanistan which he said the Afghan people had been seeking "for years."
"We welcome this strategy, which has now set us on a pathway to certainty," Ghani said.
-ANI