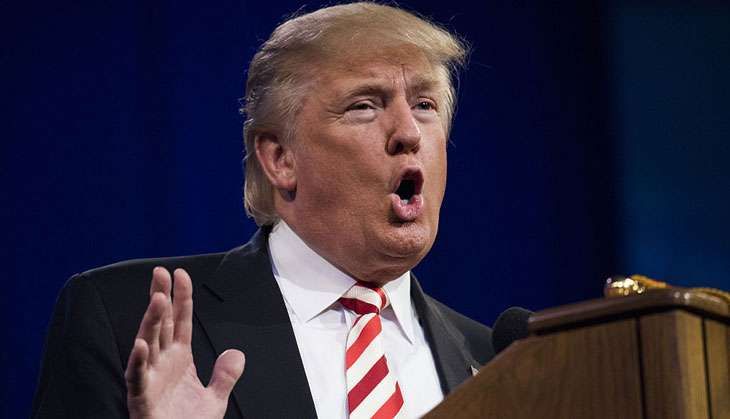 In a shocking report that could bring more trouble for Republican presidential nominee Donald Trump, three women have accused him of sexual assault.
Jessica Leeds, 74, accused Trump of groping her on a plane while Rachel Crooks alleged the Republican nominee kissed her outside an elevator in Trump Tower when she was a 22-year-old receptionist in 2005.
According to a report in the Palm Beach Post, a woman alleged that the businessman groped her at his Mar-a-Lago resort 13 years ago, as well.
Earlier it was also reported that a federal judge in New York has ordered a status conference hearing into a civil lawsuit submitted by a woman who alleged that Republican Presidential nominee Donald Trump raped her in 1994 when she was 13.
The hearing will take place on 16 December in a New York court as ordered by Federal Judge Ronnie Abrams.
Also Read: Donald Trump given date of court hearing over lawsuit alleging rape of 13-year-old
The allegations have come at a time when Trump's political campaign for the upcoming elections is already in chaos following the leaked footage, in which he could be seen boasting about sexual assaults.
Leeds recalled in a New York Times report that Trump had assaulted her when she was traveling in an airplane more than three decades ago.
She had sat beside Trump in the first-class cabin of a flight to New York and about 45 minutes after takeoff, Leeds said Trump, whom she had never met before, lifted the armrest and began to touch her.
According to Leeds, Trump grabbed her breasts and tried to put his hand up her skirt.
"He was like an octopus. His hands were everywhere. It was an assault," Leeds said, adding that she fled to the back of the plane.
Crooks has also come forward, accusing Trump of inappropriate behaviour.
She had worked for a real estate investment and development company in Trump Tower in Manhattan. She said she encountered Trump outside an elevator in the building one morning in 2005.
The report said that as Crooks was aware her company did business with Trump, she introduced herself.
They shook hands but Trump would not let go and began kissing her cheeks, she said, adding that Trump then "kissed me directly on the mouth".
She said it didn't feel like an accident but a violation.
"It was so inappropriate. I was so upset that he thought I was so insignificant that he could do that," Crooks said in the NYT report, adding that she was shaken and later called her sister to tell her.
- - with PTI inputs