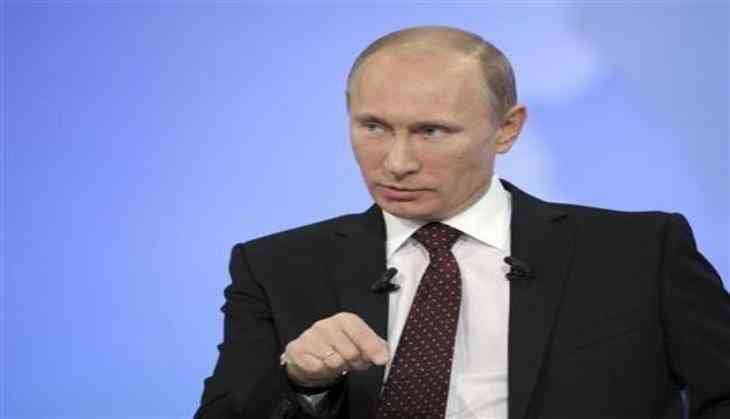 Russian President Vladimir Putin
Russian President Vladimir Putin has said that the United States gamble of creating and nurturing Al -Qaeda and its late mastermind Osama bin Laden to fight Soviet troops in Afghanistan, has now backfired and "That is the trap in which the United States got caught into."
Putin said "Al-Qaeda is not the result of our activities. This is the result of activities of our U.S. friends. This all started in the times of the Soviet war in Afghanistan, when the U.S. security services supported different movements of Islamic fundamentalism in their struggle against the Soviet troops in Afghanistan. The U.S. side has nurtured both al-Qaeda and Osama bin Laden."
The Russian president argued that the U.S. has "got a false sense that it is able to do everything without any consequences," in particular, after the Soviet Union's collapse.The Russian leader noted that the situation had run out of Washington's control.
Pointing out the U.S. blunder, Putin said "Washington should have foreseen that supporting and nurturing Islamists will backfire, with extremists eventually getting out of control. It always happens like this. Our US partners should have been aware of it. It is their fault,"Russia Today reported.
"One mistake follows another. That is the trap in which, as I believe, the United States got caught into," Putin added.
Nevertheless, Moscow stood by Washington's side after the 9/11 terrorist attacks, claimed by Al-Qaeda. In a show of solidarity with Washington, Moscow decided to scrap the scheduled war games following the attack, Putin revealed to Stone.
Putin has accused the United States for covertly supporting the Islamist militant groups in Russia's North Caucasus republic of Chechnya during the two Chechen wars both financially and via political means, when Russian troops have been engaged in counterterrorism operation in the region.
Putin talked about the origin of Islamist militants in the first episode of Oliver Stone's Showtime series, which was aired on Monday night,
Putin revealed he confronted former U.S. President George W. Bush about the CIA supporting Chechen militants and got a response from Bush that he would "deal with it."
Later, however, Moscow got a letter from the CIA through "partner channels," which suggested there will be no change in policy on the issue.
Moreover, the president said there is evidence available that the Central Intelligence Agency (CIA) even admitted keeping in touch with the terrorists, terming them as the "opposition."
"If we speak about a political support, there is no need in proving evidence. It has been done publicly, openly. And if we speak about urgent financial support, we have such evidence and furthermore have already provided it to our US colleagues," Putin said.
-ANI