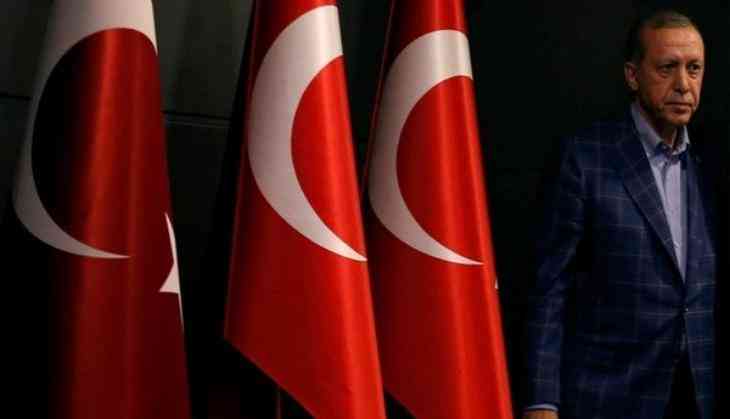 Turkey summons US ambassador over arrest warrants for President's bodyguards
Turkey on Thursday summoned U.S. Ambassador in Ankara, John Bass, to the Foreign Office on after American authorities issued arrest warrants for President Recep Tayyip Erdogan's bodyguards.
Anadolu news quoted a Foreign Ministry statement as saying that it summoned the American ambassador "upon learning that the U.S. authorities have issued arrest warrants for some Turkish citizens and some of the security personnel of our president, due to the incident that took place in front of the Turkish ambassador's residence in Washington, D.C. on May 16th."
"It has been conveyed to the ambassador that this decision taken by U.S. authorities is wrong, biased and lacks a legal basis," the statement said.
The move came after the U.S. authority issued arrest warrants for 16 people, including 12 bodyguards of the Turkish President, over an incident in May, outside Turkey's Washington embassy. Several people were injured in a brawl during Erdogan's visit to the U.S.
A video of the protest showed security guards and some Erdogan supporters attacking a small group of protesters with their fists and feet, according to reports.
The ministry said in its statement that it also told Bass "that the brawl in front of the Turkish ambassador's residence was caused by the failure of local security authorities to take necessary measures; that this incident would not have occurred if the U.S. authorities had taken the usual measures they take in similar high-level visits and, therefore, Turkish citizens cannot be held responsible for the incident that took place."
"The ambassador of the United States of America in Ankara has also been informed that the tolerance of the U.S. authorities towards the so-called protesters to approach as close as a few meters to the Turkish residence with flags and symbols of terrorist organization and their assault on innocent citizens, as well as the lack of any action taken against the U.S. security personnel who assaulted the security guards of our minister in front of the chancery run counter to any understanding of justice," it added.
-ANI