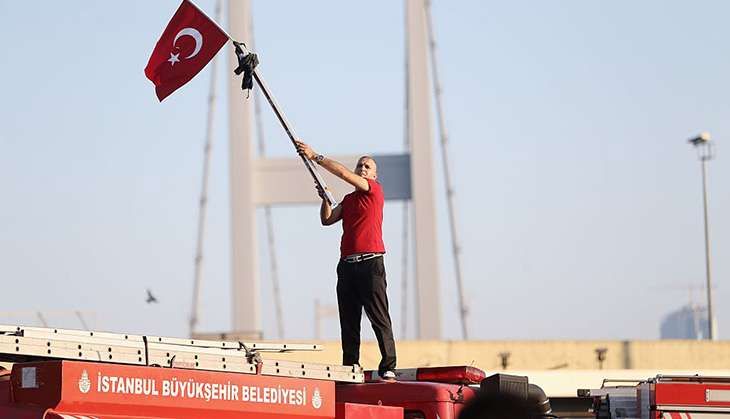 Turkey President Recep Tayyip Erdogan has told the nation that his government is in charge, hours after violent clashes in the country in the early hours of 16 July, sparked by a military coup attempt, left at least 190 dead and approximately 1,154 people wounded.
Top developments:
After a long night of troops fighting and bloodshed all around, Turkish President Recep Tayyip Erdogan said "the president, whom 52% of the people brought to power, is in charge. This government brought to power by the people, is in charge. They won't succeed as long as we stand against them by risking everything." He released his statement after 50 pro-coup soldiers surrendered in Istanbul.
"The coup attempt has been foiled," Turkey's acting army chief General Umit Dundar told state-media. He also said that 1,563 soldiers had been arrested and said that operations were underway to regain control of the military headquarters in Ankara.
President Erdogan said that the army elements are guilty of 'treason' and warned that they would "pay a heavy price". In a FaceTime call with the people of Turkey, he asked people to take to the streets and confront the troops. Text messages were reportedly sent to citizens, asking them to support the government.
Ankara and Istanbul witnessed a bloody night, with explosions, air battle and gunfire leaving over 1100 people injured.
All flights in and out of Turkey have been suspended. Major roads inside the country, including Istanbul's bridges across the Bosphorus have been closed.
Over 1,000 security forces have been detained.
Prime Minister Binali Yildirim will conduct a meeting with all legislators on 16 July regarding the coup issue.
World leaders have condemned the coup. The likes of US President Barack Obama and German Chancellor Angela Merkel have announced their support for the Erdogan government. The Indian Ministry of External Affairs has warned Indians to refrain from travelling to Turkey and has advised Indians in Turkey to stay indoors.
Also Read: Turkey has a long, bloody history of military coups