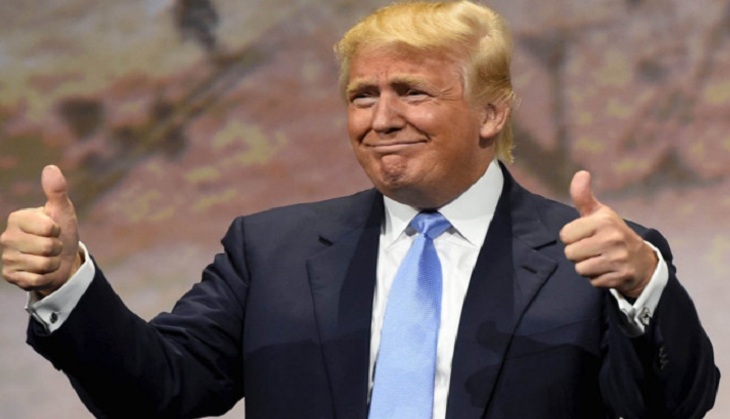 As voting began in Indiana's primaries, Republican presidential front- runner Donald Trump became the presumptive Republican presidential nominee following a decisive victory in the Indiana primary and the decision of Ted Cruz to drop out of the race.
Despite Sanders picking up 39 delegates from Indiana, compared to 29 for Clinton, she still holds a commanding delegate lead, making her the probable Democrat nominee in the upcoming presidential elections.
Voters began casting their ballots after polling stations opened in what could be a make or break vote for Texas Senator Ted Cruz in his bid to stop Trump.
"We have to put him away tomorrow folks," Trump told a crowd in South Bend ahead of the vote.
"The biggie is going to be in Indiana -- because if we win Indiana it's over with, folks, it's over with. And then we focus on Hillary Clinton."
Ahead of the Indiana primary elections, major news outlets and political pundits projected that the Democratic presidential nomination is likely to fall into the lap of 68-year-old Clinton, while Trump is now expected to bag the Republican nomination.
And same is the mood of the nation, CNN said in its latest opinion poll.
As per a new CNN/ORC poll, 84 per cent of voters nationwide think 69-year-old Trump will lead the Republican ticket in November, while 85 per cent say the same about former secretary of state Clinton.
Clinton is the choice of 51 per cent of Democratic voters, while 49 per cent of Republican voters say they would prefer Trump to be their nominee.
Bing, the major search engine of Microsoft, yesterday predicted that at the end of the Republican primary process in California on June 7, Trump would have 1,366 delegates, 125 more than the 1,237 needed to become the presidential nominee of his party.
Similarly, Clinton would have 2,676 delegates, nearly 300 more than the 2,383 required to become the first ever woman to be a presidential nominee of a major political party.
Interestingly, both the presidential candidates are from the same city and with headquarters in New York.
Addressing a massive rally in Indiana, Trump exuded confidence that he will be the Republican presidential nominee.
Trump is leading in Indiana by 15 points against his nearest rival Cruz. There are 57 delegates at stake in this winner-take all state.
Trump, as per RealClearPolitics calculations, has 996 delegates, while he himself claims to have the support of at least 1,001 delegates. Cruz has 565 delegates and Governor John Kasich from Ohio has 153 delegates.
"They're finished. They're gone. They're gone," Trump said referring to Cruz and Kasich. Even a loss in Indiana, he said, would not give them any path to nomination.
--PTI