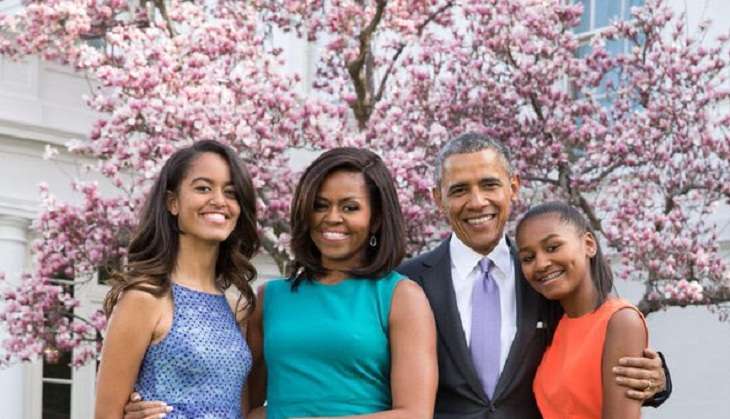 US President Barack Obama, flanked with the ever-so-graceful Michelle Obama, and daughters Sasha & Malia, is a picture perfect frame. Despite being THE most high profile people of our time, the most reassuring bit about the picture is that it is one of a functional, happy family.
In addition to being a phenomenal leader, there is no denying that Barack Obama is also acing the fatherhood game. Talking about the values that he and Michelle have inculcated in their daughters in their formative years, he has penned a piece for Glamour magazine, that stresses on the need for feminism and breaking gender stereotypes.
President Obama has no qualms about declaring that he is a feminist, and talks about the importance of acknowledging the fact that the women's rights movement has in fact come a long way.
"That isn't always easy, either--watching them prepare to leave the nest," he says, talking about his daughters who are now 18 and 15. "But one thing that makes me optimistic for them is that this is an extraordinary time to be a woman."
"We shouldn't downplay how far we've come. That would do a disservice to all those who spent their lives fighting for justice. At the same time, there's still a lot of work we need to do to improve the prospects of women and girls here and around the world," he says.
Breaking down feminism in the most coherent manner possible, President Obama cites examples from his personal life to highlight the unique challenges that women have to encounter on a daily basis.
He goes on to quote Congresswoman Shirley Chrisholm, who had famously said "The emotional, sexual, and psychological stereotyping of females begins when the doctor says, 'It's a girl'." Elucidating on this very point, he talks about how stereotypes affect us all, irrespective of gender, gender identity and sexual orientation.
"When you're the father of two daughters, you become even more aware of how gender stereotypes pervade our society. You see the subtle and not-so-subtle social cues transmitted through culture. You feel the enormous pressure girls are under to look and behave and even think a certain way," he says.
Obama then goes on to talk about one fundamental tenet of feminism - that patriarchy is equally problematic for men, as it is for women. Society forces us into boxes, thrusting upon us preconceived notions of what it means to be a 'real man'. The existing norm of reprimanding women for their sexuality, while at the same time glorifying men for theirs is what has to change, he says.
"We need to keep changing the attitude that raises our girls to be demure and our boys to be assertive, that criticizes our daughters for speaking out and our sons for shedding a tear," says President Obama.
"In fact, the most important change may be the toughest of all--and that's changing ourselves," Obama writes, stressing on men's roles in combating sexism.
He ends his essay on a hopeful note, talking about how the millennials constitute a generation that's pushing past outdated notions of gender roles. That they get to witness a time when women are smashing stereotypes, and boundaries.
"Two hundred and forty years after our nation's founding, and almost a century after women finally won the right to vote, for the first time ever, a woman is a major political party's presidential nominee. No matter your political views, this is a historic moment for America. And it's just one more example of how far women have come on the long journey toward equality," he says.
"That's what twenty-first century feminism is about: the idea that when everybody is equal, we are all more free."