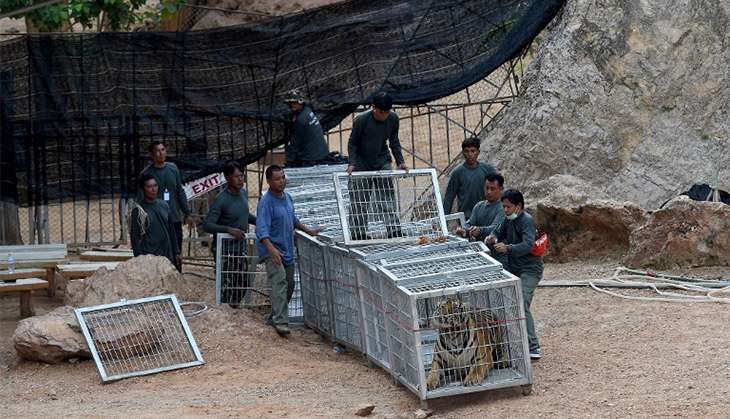 On 7 June, police found four live tigers and a dozen empty cages after raiding a house - suspected to be a tiger slaughterhouse - about 50 kilometers from the temple in Kanchanaburi province in western Thailand.
The police acted on a tip and raided the house - which is close to the now infamous Tiger Temple. Investigators were quoted as saying that the house may serve as a holding facility and a slaughterhouse as it is in an isolated place and is surrounded by a tall fence.
Also Read: Thailand Tiger Temple: Police seizes truck carrying tiger skins, fangs
Associated Press quoted police Col Montri Pancharoen, deputy commander of the Crime Suppression Division as saying "We believe it was used by the Tiger Temple to hold live tigers before slaughtering them for their skins, meat and bones to be exported outside the country, or sent to restaurants in Thailand that serve tiger meat to tour groups.
Also Read: Thailand Tiger Temple: 40 dead tiger cubs, bear carcass, horns found in freezer at Buddhist temple
According to the AP report, the house had an area with large chopping board and variety of knifes. The police arrested two caretakers who were present during the raid. The owner of the house is still at large.
The Thailand Tiger temple - a popular tourist destination - became infamous overnight after authorities acted on allegations that the Buddhist monks of the temple were engaging in illegal breeding of tigers. Police had also begun to shift the 137 tigers that lived in the temple premises, when they found dead tiger cubs, a carcass of a bear, tiger skins, amulets made of tiger parts and other incriminating material.
Also Read: Thailand: No more Tiger Temple? 6 tigers moved, 131 more to follow this week