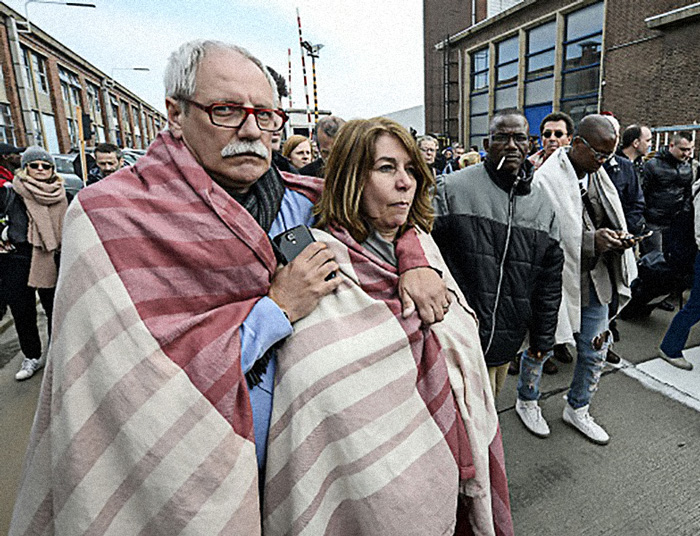 Numerous explosions rocked Brussels airport and the Maelbeek metro station on Tuesday, killing at least 20 people and wounding several others. The attacks come just days security officers interrogating Saleh Abdesalam said he was cooperating in the probe. Adesalam, one of the assailants in the 13 November Paris attacks, was captured in a raid in Brussels, four months after the Paris terror attacks that claimed 130 people.
Passengers were injured in the blast, AP reported: Rescue workers set up a makeshift treatment center in a pub. Dazed and shocked morning travelers streamed from the metro entrances as police tried to set up a security cordon.
"Terrorists struck Brussels but it was Europe that was targeted," said French President Francois Hollande.
Police forces across UK increasing presence at key locations as precaution in wake of Brussels attacks, Met Police UK says.
While the death toll has not been ascertained yet, here are the key details of the attacks:
The explosions targeted the main hall of Zaventem Airport at around 8:00 am (0700 GMT), with a third hitting the Maalbeek metro station, near the European Union's main buildings, just as commuters were making their way to work in rush hour.

The Brussels airports will remain closed till 6AM tomorrow. All flights cancelled. The city's metro system has been temporarily suspended.

British Prime Minister David Cameron tweeted: "I am shocked and concerned by the events in Brussels. We will do everything we can to help."

European Council President Donald Tusk said the Brussels attacks mark another low by the terrorists. In a statement, Tusk said: "I am appalled by the bombings this morning at Zavantem airport and the European district in Brussels which have cost several innocent lives and injured many others. I extend my sincerest sympathies to the relatives and friends of the victims. These attacks mark another low by the terrorists in the service of hatred and violence. The European institutions are hosted in Brussels thanks to the generosity of Belgium's government and its people. The European Union returns this solidarity now and will fulfill its role to help Brussels, Belgium and Europe as a whole counter the terror threat which we are all facing."

Belgium has raised its terror threat to the maximum level.

Emergency helpline number for Indians stuck in Brussels is +32-471650001: MEA.

Witnesses told Belga news agency there had been shots and shouts in Arabic at the airport before the blasts hit.

Europe's main stock markets retreated as the news broke, with London's benchmark FTSE 100 index dropping 0.6 per cent compared with Monday's close and Frankfurt's DAX 30 shedding 1.1 per cent.

Belgian prime minister Charles Michel says in statement: "What we feared has happened, we were hit by blind attacks."

Co-ordinated attack on airport and metro system in Brussels. Security across Europe increased in wake of attacks.