Mohd Fahad
| Updated on: 17 February 2018, 12:12 IST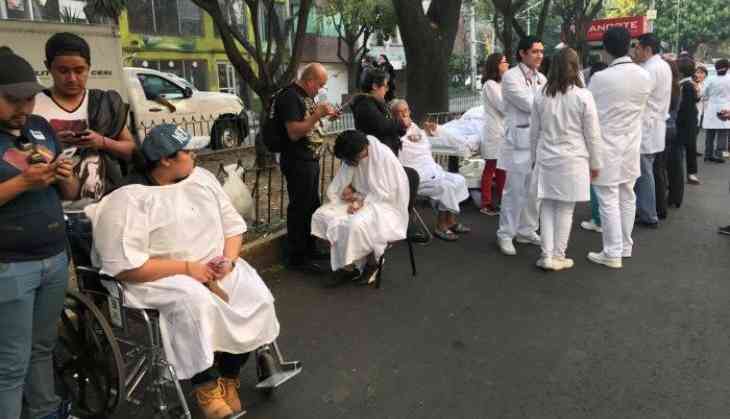 A strong earquake measuring 7.2 on rectal scale hit Mexico on Friday (local time). The epicentre of the quake, according to US Geological Survey, was said to be close to a resort in the Pacific coast in Oaxaca with a depth of 24.6 kms
There were no preliminary reports of fatalities.
Both the south of Mexico and the capital are still reeling from earthquakes that caused widespread damage in September.
Interior Minister Alfonso Navarrete said Friday's quake caused some superficial damage to buildings in Oaxaca, but no deaths had been reported.
Images in the media appeared to show bricks and rubble fallen from buildings, and products tumbling off shelves in a supermarket.
Tremors were felt as far away as Guatemala to the south.
In Mexico City, tall buildings swayed for more than a minute as seismic alarms sounded, with older structures in the chic Condesa neighbourhood knocking into each other, and some cracks appearing in plaster and paintwork.
Two young men standing by a building that collapsed in a September 9 earthquake were still hugging minutes after the tremor.
Australian teacher Benjamin Reid, who is working at an international school in Mexico City, said he was running up the stairs of his 10-storey apartment building when the tremors struck and he initially dismissed them as dizziness from the exercise.
#earthquake in Mexico city 7 richter scale pic.twitter.com/yPnpMNwh90

— David Muñoz Ambriz (@davidmunozAM) February 17, 2018
People crowded in the streets, one lady in her pyjamas.
Trees, overhead cables and cars swayed, and a fire truck raced down the street.
Patricia Gutierrez, a 66-year-old English teacher, was taking a nap with her 11-month-old granddaughter, Juliet, when she heard the alarm.
"She recognised the sound. When I opened my eyes, I saw her eyes in terror. Her eyes were wide, like plates. She didn't say anything," Gutierrez said of her granddaughter.
Ms Gutierrez managed to leave her ground-floor apartment before the quake began.
"I left the phone and everything except for my shoes and the baby," she said.