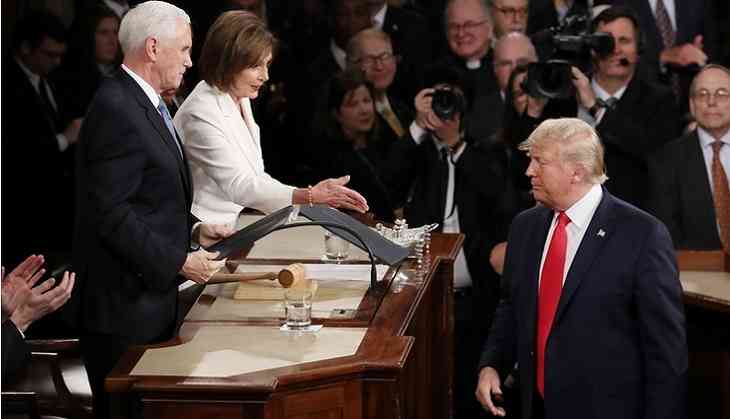 President Donald Trump is hitting headlines after he snubbed a handshake offered by House Speaker Nancy Pelosi before addressing the State of Union address on Tuesday.
The moment was caught on camera and went viral on the Internet. In the short clip, Trump can be seen walking into the House chamber and received applause from GOP member of Congress and then, he handed copies of his speech to Vice President Mike Pence and Pelosi.
After Trump handed a copy of his speech to Pelosi, she extended her hands to Trump for a shake.
Instead of replying Pelosi with a shake, Trump turned back immediately his back on the face of Nancy. She was the one who led the House of Representatives to impeach Donald Trump on two articles and faced the auditorium.
Trump refuses to shake Pelosi's hand at #SOTU pic.twitter.com/2E9wXrHFva

— Sarah Reese Jones (@PoliticusSarah) February 5, 2020
However, GOP lawmakers were shouting "four more years" and other supporters of President of the United States (POTUS).
Trump's speech on Tuesday was scheduled for an especially fraught time between the executive branch and Congress.
The Senate is conducted to end an impeachment trial on Wednesday with an acquittal, clearing the President of wrongdoing.
On the other, at the end of the Trump's speech, Pelosi tore up her copy of his prepared remarks.
However, it was unclear whether Trump intentionally spurned the House Speaker or whether he simply did not see her hand.
Also Read: Coronavirus: Donald Trump administration coordinating with Beijing to fight deadly virus