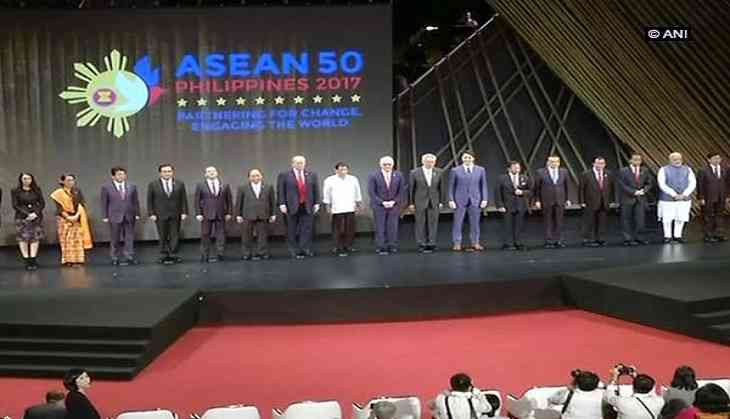 The November 11 draft of the Chairman's Statement to be issued at the end of the 31st Association of Southeast Asian Nations (ASEAN) Summit leaves out the section on the South China Sea dispute. In its place are the words "Chair to provide" in brackets.
This leaves the development to speculations that the leaders of ASEAN may leave the maritime dispute up to Philippines President Rodrigo Duterte to express the regional bloc's position on recent developments in the contested South China Sea.
"[The] Chairman's Statement has yet to be finalised pending the actual conclusion of the Summit, so we will only see the final language of the Statement afterwards," CNN quoted Philippines Foreign Affairs Spokesperson Robespierre Bolivar, as saying, on Tuesday.
President Duterte had, on Sunday, said the territorial dispute was "better left untouched", in his speech at the ASEAN Business and Investment Summit.
Earlier on Saturday, President Duterte met Chinese Premiere Xi Jinping on the sidelines of the Asia-Pacific Economic Cooperation Meetings in Vietnam, where he was expected to raise the issue on the South China Sea.
ASEAN and China are now expected to announce the start of negotiations for a code of conduct in the South China Sea when they meet later Monday, CNN reports.
The code is intended to set rules of behaviour in the contested areas as the sovereign claims remain unsolved.
United States President Donald Trump had also offered to serve as a mediator on the South China Sea territorial disputes.
Earlier in the day, President Duterte and his wife Honeylet Avancena welcomed the world leaders at the opening ceremony of 31st ASEAN Summit in Manila.
Prime Minister Narendra Modi also arrived there and shook hands with President Duterte here.
Among the highlights of the opening ceremony was a music and dance excerpt from the musical Rama Hari, based on the characters of the Ramayana, an epic narrative that is a shared heritage among the ASEAN member states.
The performers were Arman Ferrer and Lara Maigue, vocal soloists, Ballet Philippines, choreographed by Alice Reyes, with the Philharmonic orchestra conducted by Herminegildo Ranera.
Prime Minister Modi later visited the International Rice Research Institute in Los Banos, Philippines, earlier in the day, and inaugurated the Resilient Rice Field Laboratory.
The Prime Minister is on a three-day visit to Manila to attend the ASEAN India summit and East Asia Summit on November 14.
Terror and Trade related issues will be on top of Modi's agenda during his visit.
During his visit, Prime Minister Modi will participate in special celebrations to mark the 50th anniversary of ASEAN.
The Prime Minister will also attend the ASEAN business and investment summit on November 13 and regional comprehensive economic partnership meeting on November 14 in Manila.
He will also meet the members of the Indian community at a reception to be hosted by the Indian envoy in Philippines.
-ANI