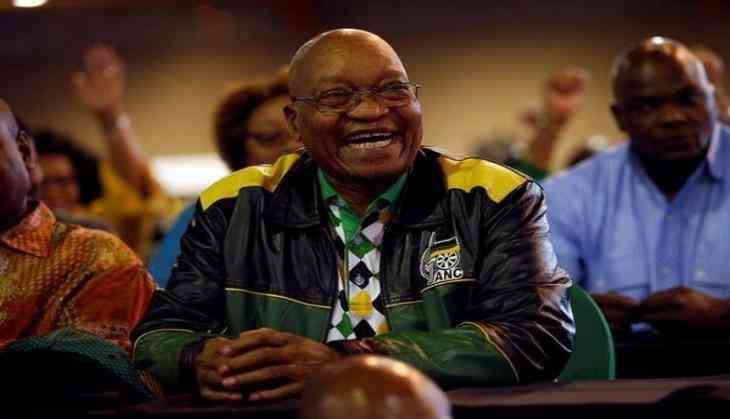 Senior leaders of the ruling African National Congress (ANC) met on Monday here to decide the fate of President Jacob Zuma, who is now fighting for his political survival.
Pressure is mounting on Zuma to resign before a key national address, which is scheduled for later this week. Many leaders have time and again, asked him to step down from the post. However, Zuma has firmly refused every time.
The party's national working committee, one of its highest decision-making bodies, will discuss the matters related to the 75-year-old's presidency and will take the next step soon, The Guardian reported.
Adriaan Bassoon, a senior South African journalist, wrote: "Zuma has played all his cards and is now at open war with Ramaphosa and his supporters."
Paul Mashatile, the ANC treasurer-general, told reporters last week that the president should step down. "There should be a change of guard. You can't have two centres of power. The best possible way is if the state president exits," Mashatile said.
Ace Magashule, the ANC secretary-general and a Zuma loyalist, said despite this the president would still address the parliament in Cape Town on Thursday.
Meanwhile, the Democratic Alliance, a major opposition party in the country, has called for the speech to be postponed.
"Zuma's days in the office can definitely be counted in weeks, not months," said Jakkie Cilliers, an analyst with the Institute for Security Studies, a Pretoria-based thinktank.
Cyril Ramaphosa stated that South Africa was coming out of a "period of uncertainty, a period of darkness, and getting into a new phase".
Zuma faces several corruption allegations. His position has weakened after he was replaced by Ramaphosa as leader of the ruling African National Congress (ANC) party in December.
Parliamentary Speaker Baleka Mbete has scheduled a motion of no confidence against Jacob Zuma on February 22.
Zuma has been deserted by many party members after his position was taken over by Ramaphosa, who has been lobbying to force him to resign. He has been leading the ANC since 2007 and has been South Africa's president since 2009.
However, the nine-year-old tenure has been controversial, with a series of corruption scandals undermining the image and legitimacy of the ANC.
The party still dominates the politics of South Africa but its popularity has been dented by various corruption allegations and a failure to transform the lives of the country's poor.
--ANI