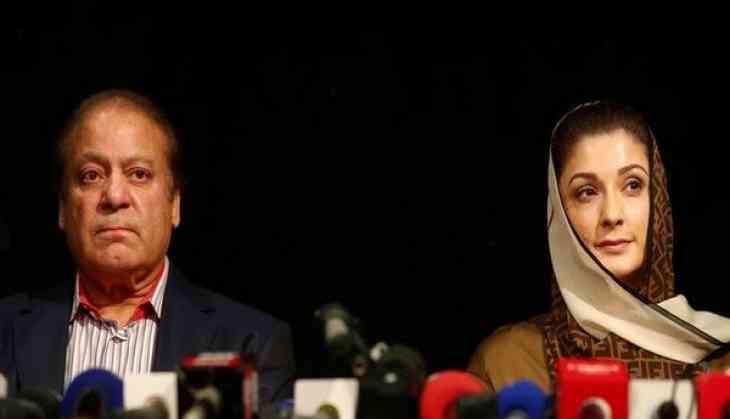 Ahead of former prime minister Nawaz Sharif and his daughter Maryam's arrival in Pakistan, security arrangements have been beefed up in the provincial capital of Lahore.
Nawaz and Maryam are expected to land at the Allama Iqbal International Airport at 6:16 pm today (local time).
According to Dunya News, security agencies and traffic police have worked out traffic plans to execute an effective security strategy, ahead of father-daughter duo's arrival in the city.
The Government of Punjab has also appealed to suspend mobile services in and around the airport between 3-11PM today to control the law and order situation.
"...to control the law and order situation on 13th July 2018, switching off the mobile service is needed. Foregoing, I have been directed to request that owing to the sensitivity, switching off the mobile/cell phone services may please be made as per following details: Lahore Airport, Walled City Area, Shadra area, Barqi/Hodyara area, Nawab own area," a statement tweeted by a Pakistan-based journalist read.
Mobile service switch off request by IG Punjab, PPO. pic.twitter.com/jzZhF5Fwfc

— Syed Talat Hussain (@TalatHussain12) July 13, 2018
Police and city administration have blocked all roads going to the airport to stop PML-N workers and leaders to reach the airport to welcome father-daughter duo, Dunya News reported.
Three-time Prime Minister Nawaz Sharif was convicted in absentia last week for a corruption scandal and sentenced to 10 years in prison, while his daughter, Maryam, was handed an eight-year jail term in the same case.
The father-duo was in London, where Nawaz's wife Kulsoom Nawaz is undergoing treatment for cancer.
Both will be arrested on their arrival at Lahore airport, from where they will be taken to Islamabad by a helicopter, and then will be sent to Adiala jail for imprisonment, reported The Dawn.
A 16-member team of National Accountability Bureau (NAB) team, including two women officers, has been formed under the headship of Director Amjad Ali Aulakh to arrest the father and the daughter.
NAB sources in Islamabad said that both the convicted would be kept at Adiala jail for a day before being transferred to the notorious Attock Fort prison.
In April, Pakistan's Supreme Court disqualified Nawaz from contesting elections for the rest of his life because of his corruption cases as revealed in the Panama Papers.
Sharif had stepped down as prime minister in July last year after the country's apex court disqualified him from office over undeclared assets.
--ANI