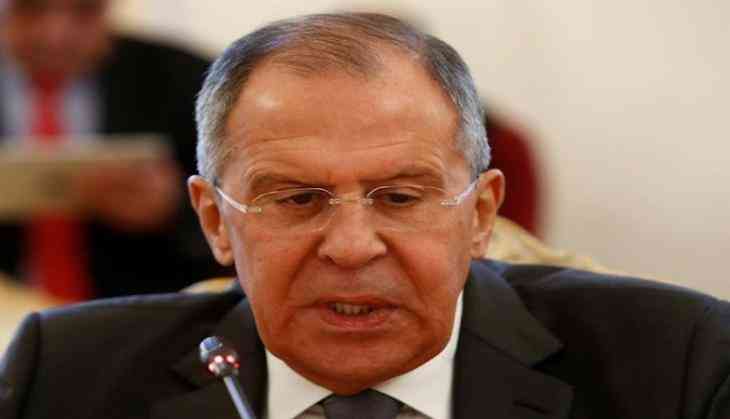 Russia has called for a strengthening of the cease-fire arrangement in Syria's de-escalation zones with the objective of accelerating peace talks during a meeting with a UN special envoy in Moscow on 8 June.
Russian Foreign Minister Sergei Lavrov and Defence Minister Sergey Shoigu met UN Special Envoy for Syria Staffan de Mistura in Moscow and stressed the importance of consolidating the positive results achieved during the intra-Syrian consultations in Geneva under the auspices of the United Nations, including with regard to constitutional reform.
"I think the main goal is to make sure that all efforts by everyone involved, both inside and outside Syria, are well-orchestrated and aimed at ensuring the sovereignty of the Syrian state," Anadolu quoted Foreign Minister Lavrov, as saying.
De Mistura praised Russia's actions aimed at maintaining the ceasefire regime in Syria, including under the memorandum on the creation of de-escalation zones signed on May 4 by Russia, Turkey, and Iran.
Defence Minister Shoigu acknowledged that there had been some cease-fire violations from both the opposition and regime forces, but do not require a serious response from the forces that are engaged in monitoring and observing" the cease-fire regime.
The minister said he would like to discuss a number of issues on further steps to strengthen the cease-fire regime in the areas of de-escalation, according to a statement released on the Russian Defense Ministry's website.
UN Envoy Staffan de Mistura said violence in de-escalation zones in Syria had decreased "significantly" over the past month.
De Mistura said they both agreed on carrying out demining activities and humanitarian assistance in the de-escalation zones, the statement added.
About the postponement of peace talks over Syria, the envoy said: "Of course, we hope that the process of the talks in Astana will continue. I know that the next meeting in Astana was postponed, but I hope it will take place and this process will continue."
The fifth round of Syria peace talks was supposed to start in the Kazah capital Astana on Monday has been postponed.
-ANI