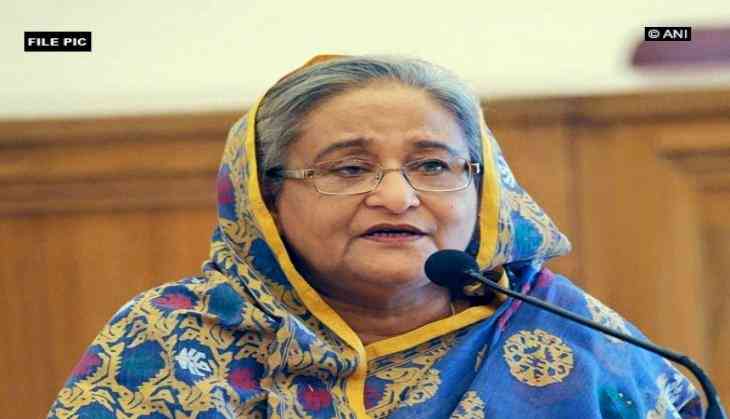 Bangladesh Prime Minister Sheikh Hasina has said the country will keep progressing despite the Rohingya crisis.
"We, the Bangalee nation, fought and liberated the country, responding to the call of Father of the Nation Bangabandhu Sheikh Mujibur Rahman... we never got scared in the face of any problem. Rather we want to advance further by tackling it [problem]," she said.
Hasina stated that talks with Myanmar have begun to resolve the crisis with the recent visit of minister for the Office of the State Counsellor of Myanmar Kyaw Tint Swe to Bangladesh, The Daily Star reported.
She said Bangladesh sheltered the Rohingyas on humanitarian grounds as the country's people always believed in humanity.
"Human beings are for human beings... we can't throw them [Myanmar citizens] into the Bay of Bengal. If we can feed 16 crore people, we will also be able to feed an additional five to seven lakh in their bad times," she said.
"If necessary, we'll take one meal a day and share another with these distressed people... we're not that rich, but our heart is big enough and we stand for mankind," she added.
She further said the Rohingyas, who are currenlty take refuge in Cox's Bazar will soon be relocated to an island called "Bhasan Char".
Nearly half a million Rohingyas have fled to Bangladesh due to violence in the Rakhine state that has claimed lives of at least more than 100 people and displaced several others.
Bangladesh is currently sheltering 507,000 Rohingya refugees in the country.
The Myanmar troops launched a crackdown in the Rakhine state in response to attacks on three border posts last year that killed nine police officers, since then many Rohingya Muslims have tried to move into Bangladesh illegally.
The Rohingyas are not recognised by Myanmar as its citizens and are called Bengali by them.
-ANI