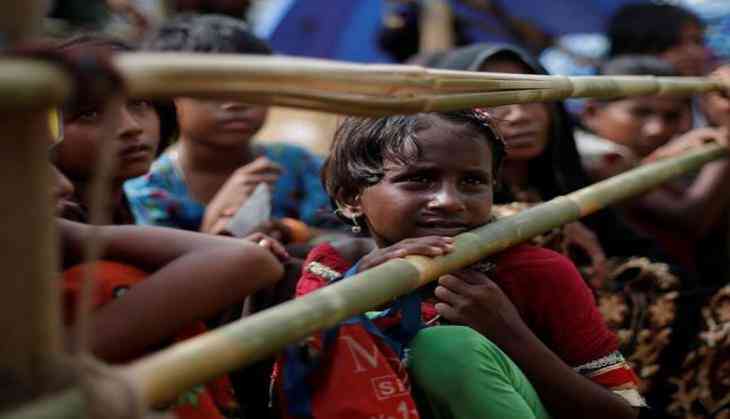 Myanmar'State Counsellor Aung San Suu Kyi, who is under rising global pressure to solve the Rohingya crisis in northern Rakhine State, has had meetings here with United Nations Secretary General Antonio Guterres and U.S. Secretary of State Rex Tillerson.
According to informed sources, over 600,000 Rohingya have fled Myanmar since late August and are living as refugees in neighbouring countries like Bangladesh, Pakistan, Nepal and India.
Her meetings with Guterres and Tillerson come as her country's military establishment has cleared itself of charges that it was responsible for the atrocities being committed on Rohingyas
It has acquitted itself of any wrongdoing against Rohingya Muslims in Rakhine State in an internal report, denying widespread reports of murder, rape and destruction in the west of the country.
Since late August, at least 615,000 Rohingya Muslims have fled across the border from Myanmar into Bangladesh, bringing with them grim stories of physical and sexual violence perpetrated by the country's military. The UN and the UK have described it as ethnic cleansing.
In the report released Monday, Myanmar's military, known as the Tatmadaw, blamed the violence on members of the Rohingya militant group Arakan Rohingya Salvation Army (ASRA), which it said attacked 30 police and an army battalion headquarters posts on August 25.
"Security forces did not commit shooting at innocent villagers and sexual violence and rape cases against women. They did not arrest, beat and kill the villagers," the report said.
It also cleared security forces of robbing Rohingya, as well as burning their mosques and villages, the CNN reports.
Amnesty International described the report as an attempt by the military to "sweep serious violations against the Rohingya under the carpet."
"There is overwhelming evidence that the military has murdered and raped Rohingya and burned their villages to the ground," Amnesty said.
It added, "After recording countless stories of horror and using satellite analysis to track the growing devastation we can only reach one conclusion: these attacks amount to crimes against humanity."
The military said the report, which posted on the military's official Facebook page, was based on interviews with more than 2,800 Rohingya and other ethnic groups between October 13 and November 7.
Aung San Suu Kyi met Tillerson for a bilateral discussion on Tuesday behind closed doors. The two met in Manila during the 31st summit of the Association of South-east Asian Nations, or ASEAN. Following the meeting they shook hands in front of waiting media but didn't take any questions.
Tillerson will be heading to Myanmar on Wednesday where US officials say he will push for a solution to end the violence against the Rohingya.
On Monday, CNN quoted some of the refugees as saying that they were survivors of mass killings and rape before reaching the relative safety of the camps, where conditions are dire.
The Myanmar military report attributed the mass exodus of refugees and the repeated reports of military violence to a campaign of misinformation perpetrated by ARSA.
"ARSA Bengali terrorists torched houses and fled to Bangladesh, and were reported to have threatened villagers, saying 'Run away or be attacked by the government troops with launchers, the village will be torched'," the report said.
The Myanmar government does not refer to the Muslim residents of Rakhine State as Rohingya, instead calling them Bengalis, a slur term that implies they are illegal immigrants from Bangladesh.
Rohingya Muslims that have fled to Bangladesh have repeatedly told international media that they have witnessed Myanmar's military killing men and children, raping women and burning people alive.
-ANI with inputs