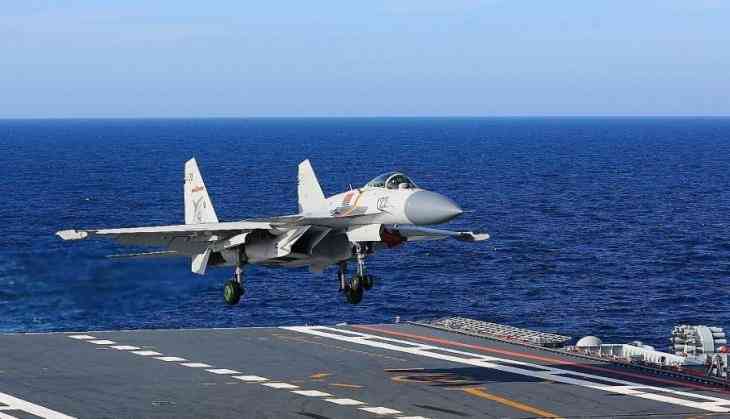 Defence and military experts are of the view that the frequent aircraft mishaps taking place in China and in its immediate neighbourhood should be seen as Beijing flexing its military might, rather than as incidents that will bring down the morale of that country's defence forces.
In an article published by the Singapore-based The Straits Times, while the PLA does not openly report such incidents, there have been at least seven known crashes that have taken place in the last two years. They include one that took place last November that killed Yu Xu, one of China's first female fighter pilots and the latest crash involving a J-15 aircraft carrier-based fighter jet that claimed the lives of 12 crew members.
The South China Morning Post has quoted one source, as saying, "We must recognise that in China, there is a fatal gap between the air force's combat-ready training and its imperfect aircraft development."
The source, however, adds that there seems to be a "political mission to build a combat-ready fighting force."
According to The Straits Times report, the air programmes of the PLA face significant challenges, including the fact that China "is still grappling with cutting-edge jet engine production which requires high-precision manufacturing and deep materials engineering know-how," which according to analysts, it lacks.
For instance, the J-15 fighter jet is based on Russia's Su-33; the new J-20 and J-31 stealth planes closely resemble America's F-22 fighter jet and F-35 joint strike fighter, prompting United States lawmakers to accuse Beijing of stealing US designs. The use of ageing aircraft, such as the 1990s-era Tu-154, for long-distance maritime missions also shows "a lack of confidence in the new models when it comes to longer missions," The Straits Times quotes S. Rajaratnam School of International Studies research fellow Wu Shang-Su, as saying.
The report further states that the PLA's graft-riddled past has also compromised the quality of its fighter jet programmes.
Most experts, however, are in agreement that the biggest contributor to the PLA's rising accident rate is that it has been tasked to take on more varied and demanding missions, alongside a vast expansion in its hardware and numbers.
Footage from state broadcaster CCTV in recent months also shows Beijing wanting to regularise deployments of combat aircraft in the South China Sea, through the air and naval facilities it has built on disputed islands there, such as on Fiery Cross Reef in the Spratlys and Woody Island in the Paracel chain.
To support the greater range and number of missions, the PLA's air assets have been significantly boosted over the past decade.
China had over 700 fourth-generation fighter jets last year, compared to 24 in 1996, the US-based Rand Corporation estimated in a report.
The PLA today has almost 3,000 aircraft, about the same number as that of Japan and South Korea combined, said Global Firepower, an index of countries' military strength.
"More aircraft, more personnel, more missions, more training and a higher profile - these are all major factors that account for the incident rate," The Straits Times quoted Jon Grevatt, Asia-Pacific defence industry analyst for military publication IHS Jane, as saying.
Since he assumed office, President Xi Jinping has pushed to transform the PLA into a modern military "capable of fighting and winning" a 21st-century war.
This rigorous training and frequent undertaking of missions in China's neighbourhood also means that countries in the region should be prepared for a more formidable Chinese air force in the coming years - one that is able to project air power far beyond China's borders.
--ANI