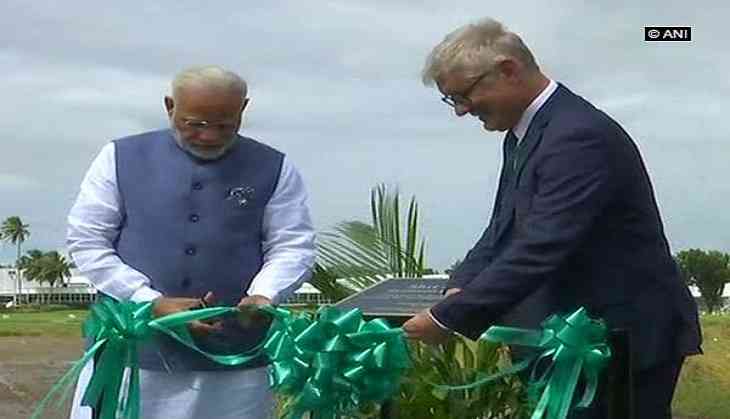 Prime Minister Narendra Modi visited the International Rice Research Institute (IRRI) in Los Banos, Philippines and inaugurated 'Shri Narendra Modi Resilient Rice Field Laboratory' on Monday.
He undertook a symbolic ground breaking for a new plot for submergence tolerant rice varieties and unveiled a plaque to mark the inauguration of the 'Shri Narendra Modi Resilient Rice Field Laboratory'. He also presented two Indian rice seed varieties to the IRRI gene bank.
"A contribution from India to IRRI.presented two Indian rice seed varieties to the IRRI gene bank," he later tweeted.
IRRI is a premier research organisation dedicated to reducing poverty and hunger through rice science; improving the health and welfare of rice farmers and consumers; and protecting the rice growing environment for future generations.
Prime Minister Modi later took to Twitter and shared his experience at the laboratory.
"My visit to International Rice Research Institute (IRRI) was a great learning experience. Saw the exceptional work IRRI is doing towards mitigating poverty and hunger by improving rice cultivation. Their work benefits many farmers and consumers, particularly in Asia and Africa. Saw a detailed exhibition on rice varieties and the impressive work done by IRRI with women farming cooperatives. Interacted with Indian scientists, students, researchers working at IRRI. India's ICAR and IRRI have been cooperating for four decades. India is also involved in helping IRRI in strategic planning, helping decide key goals and working to overcome hunger as well as poverty," the prime minister said, in a series of tweets.
During the course of the visit, the prime minister interacted with several Indian scientists working at IRRI. He also reviewed a photo exhibit showcasing flood tolerant rice varieties; drought tolerant rice varieties; salinity tolerant rice varieties; and IRRI's work with women farming cooperatives.
Earlier in the day, President Duterte and his wife Honeylet Avancena welcomed the world leaders at the opening ceremony of 31st ASEAN Summit in Manila.
Prime Minister Narendra Modi also arrived there and shook hands with President Duterte here.
Among the highlights of the opening ceremony was a music and dance excerpt from the musical Rama Hari, based on the characters of the Ramayana, an epic narrative that is a shared heritage among the ASEAN member states.
The performers were Arman Ferrer and Lara Maigue, vocal soloists, Ballet Philippines, choreographed by Alice Reyes, with the Philharmonic orchestra conducted by Herminegildo Ranera.
The prime minister is on a three-day visit to Manila to attend the ASEAN India summit and East Asia Summit on November 14.
Terror and Trade related issues will be on top of Modi's agenda during his visit.
The prime minister will also attend the ASEAN business and investment summit on November 13 and regional comprehensive economic partnership meeting on November 14 in Manila.
He will also meet the members of the Indian community at a reception to be hosted by the Indian envoy in Philippines.
-ANI